Justin Buchholz def. Corey Hill via Sub (Rear-Naked Choke) R2 3:57
Gabriel Gonzaga def. Justin McCully Submission (Kimura) R1 1:57
Melvin Guillard def. Dennis Siver TKO (Punches) R1 0:36 - Guillard rocked Siver with some solid shots.
*KO of the night
Cole Miller def. Jorge Gurgel Submission (Triangle Choke) R3 4:48 - You can watch this one on UFC.com. It was a match that I had Gurgel winning going into 12 seconds left in the match. Miller locked in a triangle at the last second.
*Submission of the night.
Tyson Griffin def. Marcus Aurelio Decision (Unanimous)- Griffin was the clear winner as he unleased kicks, punches and lunging attacks to get the decision victory.
Josh Koscheck def. Chris Lytle Decision (Unanimous)- Koscheck was able to get takedowns and throw down elbows to win one of the most bloodiest fights of the year.
Joe Stevenson def. Gleison Tibau Submission (Guillotine choke) R2 2:57- This was an exciting fight as Steven looked for submission after submission. He had a very close attempt at a guillotine in the first, and ended up securing one in the second.
Patrick Cote def. Ricardo Almeida Decision (Split)- Cote barely scored a victory after losing the first round and probably taking the second two. Almeida was able to get takedowns, but got tired after the first. Cote had good energy, but didn't look like a guy who should be getting a title shot right away.
Forrest Griffin def. Quinton Jackson Decision (Unanimous)- Jackson won the first round with a punch that sent Forrest to the canvas. Rampage had suffered damage to his leg in the first however, which slowed him in the first. Griffin won the second round on more leg kicks. The rest of the rounds saw Jackson landing more punches and Griffin more kicks. I had it scored very close, as Griffin came out the winner.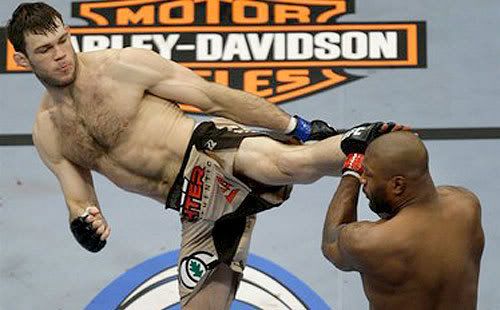 With the win, Griffin has proved he is the real deal. It will be interesting to see what match-ups are possible. We could see Forrest v. Wanderlei Silva, Forrest v. Chuck Liddell, Forrest v. Lyoto Machida, or possibly Forrest v. Rampage 2.
*Fight of the Night