By the MMA Blaster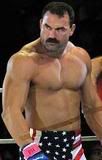 Don Frye (19-6, 9-1 UFC) is a true MMA legend. Every time he steps into the arena he brings an aggressive fire with him. He is probably best known to the internet community for the fight with Yoshihiro Takayama at Pride 21, when the two fighters punched each other hockey style in a wild fury with Frye coming out on top.
Frye was a wrestling standout at Arizona State University (ASU) where he learned under assistant coach Dan Severn. Frye would help train Severn for UU95, and Severn returned the favor to Don at UFC 8. Don won UFC 8 with three wins including a great one over Gary Goodridge in the final. Don also won the UU96 tournament, which included a crazy one minute and 22 second match against Tank Abbott for the title.
His 9-1 record in the UFC and the part he played in elevating the status of MMA in the United States should earn him a spot in the UFC Hall of Fame. He was 11-1 before taking a break in 1997. He returned in September of 2001 winning after being eye gouged by Gilbert Yvel.
In his next fight he defeated kickboxing legend Cyril Abidi. He continued to fight in K1 and Pride in addition to being a coach in the IFL. His Dear Don segments for the IFL are classic, one is included below the highlight reel. Last January, Don won a fight in the No Limits organization against Bryan Pardoe (12-10) by way of a :47 second knockout.
*In Don's first MMA match at UFC 8, Don KO'd 410 pound Thomas Ramirez in 8 seconds.