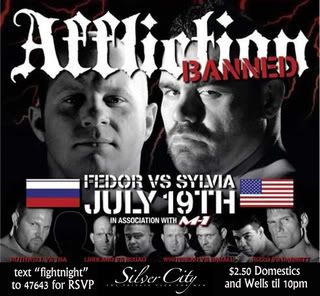 A reported 14,832 were in attendance to see Affliction's inaugural show. The production was not quite UFC's level, but who cares about production values? I want to see great fights, and that's exactly what this heavyweight all-star card produced.
Paul Buentello def. Gary Goodridge via. Decision (Unanimous)- Buentello was able to push the pace and win the fight.
Vitor Belfort def. Terry Martin via. KO (Punch) R2, 3:12- Vitor stood and traded with Martin during the first which also saw Martin get some takedowns. In the second, Vitor began to string together standing combinations before bringing a massive knee to Martin's head. A big punch sent Martin to the canvas, with Vitor backing off as he knew Martin was KO'd.
Mike Pyle def. JJ Ambrose via Sub (Rear-naked choke) R1, 2:51- Pyle went from takedown to mount to rear naked choke.
Antonio Rogerio Nogueira def. Edwin Dewees via. TKO (Punches) R1, 4:06- Edwin Dewees tapped into his inner Krazy Horse Bennett as he tried some push kicks while in a corner with his arms over the ropes. Unfortunately, the strategy didn't work as Dewees ended up being crushed and sent to the canvas after knees and punches. While Dewees put up a valiant effort, he was simply out-matched when it came to boxing.
Matt Lindland def. Fabio Negao via Decision (Unanimous)- Lindland won a couple rounds to win the decision.
Renato Sobral def. Mike Whitehead via Decision (Unanimous)- Babalu pressed the action more and landed more strikes to defeat Mike Whitehead via decision. Babalu came close with a submission attempt and did more damage in this mostly one-sided fight.
Mark Hominick def. Trenell "Savant" Young via Submission (Armbar) R2, 4:25- After a Savant Young trip take down, Hominick cycled through a barrage of submission attempts before using a triangle attempt to get an arm bar.
Josh Barnett def. Pedro Rizzo via. KO (Punch) R2, 1:44- Barnett and Rizzo mainly kept the fight standing and as a boxing match in the first. Barnett would lunge in for takedowns after punching and kicking. Barnett landed a variety of kicks, including two spinning back kicks. In the second, he connected with a vicious left hook sending Rizzo down.
Andrei Arlovski def. Ben Rothwell via KO (Punches) R3, 1:13- Wow, Andrei Arlovski is back. He got the better of every exchange as he used Ben Rothwell's head like a punching bag on more than one occasion. After knocking Big Ben to the canvas, Arlovski kept bring punishment. He tried leg locks in two rounds, which were unsuccessful. In the third, Rothwell went down hard after a straight right and right uppercut.
Fedor Emelianenko def. Tim Sylvia via Submission (Rear-naked choke) R1, 0:36- Fedor's United States debut was an absolute explosion. The invincible Emelianenko stood and traded with the taller Tim Sylvia. Fedor was able to close the gap between him and his taller foe. Sylvia admitted that he, "has never been hit like that before." It took only seconds before Fedor connected with a punch flush to the chin of Sylvia and sent him to the canvas. As Fedor swarmed in, a dazed Sylvia was not able to stop more punches before rolling into a rear naked choke.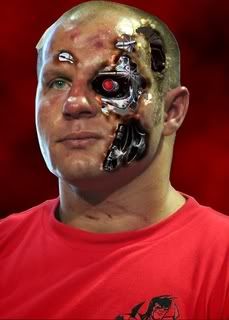 *"I don't think Fedor is human," Sylvia half-joked after the fight. "He is by far the best fighter in the world."
In his next match, Fedor may see UFC legend Randy Couture as his contract with the UFC expires in October. Josh Barnett and Andrei Arlovski are two other Affliction fighters who deserve a spot. Hopefully there is a number one contender match if the Couture fight happens.
*MMA Blaster pollsters picked Fedor to win 7-2