AFFLICTION - BANNED
Below is a rumored all-star card for the inaugural Affliction show. Affliction has a whopping seven current top twenty heavyweights according to MMA Blaster rankings. Almost every fighter on the card has fought on the main stage in the UFC, Pride, IFL or BoDog. The show will air on pay per view, and reportedly have a big music act as well. Megadeth has been mentioned as a possibility.
Fedor Emelianenko (27-1) vs. Tim Sylvia (24-4)- Finally we get to see number one heavyweight Fedor fight a legit heavyweight threat in former UFC Champ Tim Sylvia. Sylvia lost his UFC heavyweight crown to Antonio Rodrigo Nogueira at UFC 81. Fedor beat massive Hong Man Choi in his last fight. Sylvia will try to use his 6'8" frame and reach advantage to box with Fedor. Sylvia was 9-4 in the UFC.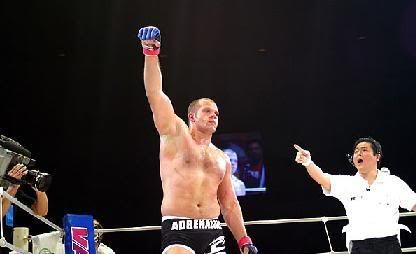 Josh Barnett (20-5) vs. Pedro Rizzo (16-7)- Former UFC heavyweight champs Josh Barnet and Pedro Rizzo are squaring off against each other in this rematch. Rizzo has a KO victory over Josh at UFC 30, and last won against Jeff Monson in last September's Art of War 3 show. Below is a gif from Barnett v. Yoshida. Barnett has beat Monson and Yoshida after a very close split decision loss to Big Nog.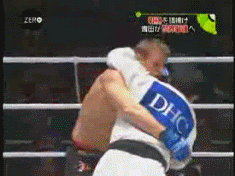 Ben Rothwell (29-5) vs. Andrei Arlovski (12-5)- IFL heavyweight sensation Ben Rothwell (29-5) should be in action against former UFC HW Champ Andrei Arlovski (13-5). The heavy-handed Rothwell last won a unanimous decision over Ricco Rodriguez in September. Rothwell is on a 13 fight win streak. Arlovski is on a three fight win streak against heavyweights Marcio Cruz, Fabricio Werdum, and Jake O'Brien. This will be Arlovski's first fight outside the UFC since May of 2000.
Matt Lindland (20-5) vs. Fabio Nascimento (19-5)- On the same note we finally get to see UFC/IFL/Bodog veteran Matt Lindland fight again. The former UFC middleweight contender has been on the shelf since his loss to Fedor at heavyweight last April. Lindland has been making a successful run at a state Representative spot in Oregon.
Renato "Babalu" Sobral (29-7) vs. Mike Whitehead (20-5)- Mike Whitehead is on an eleven fight win streak in the IFL and regional fight promotions. He is facing released UFC fighter Babalu Sobral. Sobral won his first match outside the UFC against Rodney Faverus (24-15). Babalu was booted from the UFC following the infamous David Heath choke incident.
Vitor Belfort (16-8) v. Terry Martin (17-4)- Another interesting fight is between Terry Martin and Vitor Belfort. Martin has won a boxing match and his last MMA match. Former UFC Champ Belfort won twice last year in Cage Rage, but hasn't fought this year. Vitor won the LHW Belt from Randy Couture at UFC 46.
Paul Buentello (23-10) vs. Aleksander Emelianenko (13-3)- Alistair Overeem recently defeated Buentello for the Strikeforce heavyweight title. Fedor's brother, Aleks, is coming off a victories over Silvao Santos, Dan Bobish, Jessie Gibson and Eric Pele.
UNDERCARD
Antonio Rogerio Nogueira (13-3) v. *Edwin Dewees (38-12)
Mark Hominick (15-8) vs. Savant Young (9-7)
JJ Ambrose (9-1) vs. Mike Pyle (15-5)
+Some fights will air on FSN before the ppv broadcast.
++Check out the Inside MMA show for more information.
+++The UFC will run an Ultimate Fight Night to cut away at the debut show.