Elite XC's second prime time CBS show featured four great fights in two hours. However, two fights ended in the first round and two fights ended in the second. This ended up in a ridiculous amount of filler. We did learn that both Gina Carano and Kimbo Slice will be fighting on October 4th.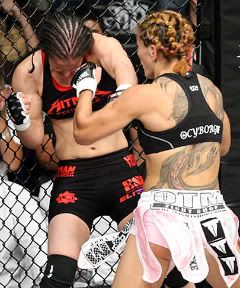 *Cris Cyborg v. Shayna Baszler from photobucket
Results:
Antonio Silva def. Justin Eilers by TKO at 0:19, R2- Silva basically bullied the smaller Eilers around the cage, landing crisp punches and having Eilers nearly beat on several occasions. After getting a point deducted for punching the back of the head, Silva remained strong, and won in the second. Silva wins the HW belt.
Robbie Lawler def. Scott Smith by TKO at 2:35, R2- This was a very exciting fight, as Smith controlled the pace of the first round throwing leg and body kicks. Lawler counter-punched and kicked doing some damage in the process. In the second, Smith landed a good elbow that cut Lawler. Not wanting the ref to step in, Lawler went crazy, throwing everything he had a Smith, eventually knocking him to the canvas and getting the TKO victory. Lawler defends the MW belt.
Nick Diaz def. Thomas Denny by TKO at 0:40, R2- Diaz looked crisp while weathering an early storm by Denny. Wearing pink shorts with some pink in his hair, Denny did get Diaz down, and Diaz went for an armbar. In the second, it was all Diaz as he landed a rough shot to Denny's face, "clowned" him, and then got the TKO.
Jake Shields def. Nick Thompson by Submission (Guillotine Choke) at 1:03, R1- This fight did not take long as Shields transitioned between a few submissions and another guillotine before locking up the finisher.
Cris "Cyborg" Santos def. Shayna Baszler by TKO at 2:48, R2- Baszler's ill advised leg lock attempt proved to be the beginning of her downfall. She ate punches from every angle in the second, and at one point Cyborg sent Baszler to the canvas. Thinking the fight was over, Cris jumped on the cage. As the ref restarted the action, it took a couple seconds for Cris to seal the TKO win. Horrible job by the ref in this fight, as Baszler was very dazed from the shot that sent her to the canvas.
Undercard: Some Fights will be re-played on Showtime
Anthony Ruiz def. Jeromy Freitag by Unanimous Decision (29-28 on all three cards)
David Douglas def. Marlon Mathias by TKO at 0:12, R1.
Rafael Feijao def. Travis Galbraith by TKO at 3:01, R1.
Wilson Reis def. Bryan Caraway by Unanimous Decision (30-27 on all three cards)
Carl Seumantafa def. Mike Cook by TKO at 3:39, R1.
Drew Montgomery def. Brandon Tarn by TKO (Doctor Stoppage) at 4:22, R3.