In Depth Exclusive on Mixed Martial Artist Douglas Lima - text copyrighted
Douglas "The Phenom" Lima (11-1) is a mixed martial artist fighting out of Atlanta, Georgia. The up and coming submission specialist will fight for the AFL Welterweight Championship on May 30th. The American Fight League (AFL) has been making a name for themselves by securing established stars and top young fighters. The 20 year old Lima will bring everything he has to the table when he fights his next opponent, tough guy Brent Weedman.
Douglas Lima grew up in Goiania, Brazil, which is the capital of the Goias state in Brazil. While a youngster in Brazil, Douglas played soccer on a daily basis and dreamed of one day becoming a professional soccer player. Even though his neighborhood was pretty safe, there were certain dangers and criminal activity surrounding the 1.25 million person city. Looking for better opportunities the Lima family decided to come to the United States.
The Lima family arrived in Atlanta, Georgia when Douglas was eleven years old. As a youngster, Douglas' love of martial arts began to grow as he first started to watch martial arts movies. He still remains a big fan of Jean Claude Van Damme and cites him as inspiration.
Douglas was 14 when he met Junior Assuncao and little did he know it would change his life forever. At the time, Junior was training in a local gym and invited Douglas to come train with him. Douglas enjoyed training and has not looked back since. Lima's early instruction was primarily in jiu jitsu and he was shuttled to and from practice by Junior. Needless to say, Douglas attributes much of his success to former UFC fighter and fellow AFL fighter Junior Assuncao.
Three years later at age 17, a promoter came to the gym and asked for an amateur fighter who weighed 170 pounds. Douglas had to get his mother to sign a waiver allowing her son to compete in mixed martial arts. Douglas went on to win his debut, his next two amateur fights, and then his first five pro fights. To his day, Douglas' Mom and Dad both get worried about Douglas fighting and cutting weight, but understand that it is their son's passion.
Unfortunately, Douglas tasted defeat in February 2008 against veteran fighter Matt Brown. When asked about his only loss, Douglas said, "It's a fight I have learned a lot from. The fight taught me to train harder and harder. I got so tired in that fight. I have respect for Matt and I really want to fight him again. Hopefully it will happen soon."
Since the loss, Douglas has upped his training regimen and won six times in a row. He currently trains six days a week, and two to three times a day. He concentrates on Muay Thai, kickboxing, wrestling, and jiu jitsu, in addition to strength and conditioning training. When not training, Douglas is able to work as a trainer of conditioning kickboxing and beginner jiu jitsu at Knuckle Up Fitness.
Asked to describe his fighting style, Douglas said, "I like to be aggressive in my fights." The aggressive style is clear as none of Douglas' fights have gone to decision and most of his fights end in the first round. When asked if he had a favorite submission, he said, "I like the triangle choke, I use that one in all the jiu jitsu tournaments I've been through."
When discussing the upcoming AFL title fight against Brent Weedon, Douglas said, "I know he is a really tough guy. I've seen him fight a few times here in my town. I knew I would fight him someday. I like his style and the fight should be good. I can't wait."
One thing is for certain, Douglas trains with several elite level fighters who have fought on the worlds biggest stages for mixed martial arts. In his gym are Junior and Rafeal Assuncao, Roberto Traven, Diego Saraiva, Roan "Jucao" Carneiro and kickboxing legend Mark Selbee. Douglas is very appreciative of their influence on his career. He remarked, "I consider them to be more skilled and experienced than myself, so they always teach me new things. I'm thankful for all their help."
When asked if there was anyone he would like to thank, Douglas said, "I would like to thank Bullet Fight Gear for sponsoring me in my upcoming fight. I'd also like to thank the AFL, Knuckle Up, all my trainers, family, friends, and anyone who supports me! God bless you all!"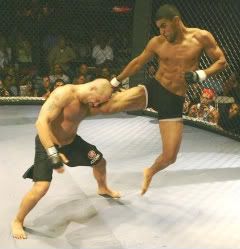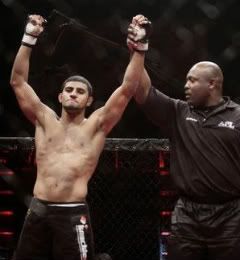 *Thanks for Douglas for doing the interview
*Douglas next fights at AFL - Bulletproof on May 30, check out americanfightleague.com for details.