After Affliction's heavyweight all-star card was almost together, the UFC decided to launch a counter-attack. They are bringing a free card on Spike TV that has some star power, mainly in the form of UFC MW Champ Anderson Silva.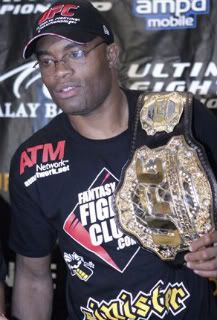 As you can see, there are 3 former IFL fighters making their UFC debuts.
Anderson Silva (21-4, 6-0 UFC) vs. James Irvin (14-4, 4-3 UFC)- Expect this to be a stand-up battle. This is Anderson's debut at 205 pounds. Anderson has looked unstoppable in his 6 fights in the UFC so far. In his last fight, Anderson beat Pride Champ Dan Henderson in the second round. Irvin is a stand-up guy, and has some notable wins on his resume over Terry Martin, Houston Alexander, Scott Smith and Doug Marshall.
Brandon Vera (8-2, 4-2 UFC) vs. Reese Andy (7-1, 5-1 IFL)- Vera is coming off two losses in the heavyweight division to Fabricio Werdum and Tim Sylvia. He is making his debut in the 205 pound division, and it is likely his first cut to that weight. He usually comes in around 225 for his heavyweight fights. Reese Andy is making his UFC debut after fighting in the IFL. He has a 4 fight win streak but hasn't fought for a year.
Frankie Edgar (8-1, 3-1 UFC) vs. Hermes Franca (18-6, 6-3 UFC)- Franca has been suspended a year for using steroids in the Sherk fight. Edgar was pushed around by a bigger Gray Maynard in his last fight and lost a decision. I wouldn't be surprised to see the loser of this fight go to 145.
Jake O'Brien (10-1, 3-1 UFC) vs. Cain Velasquez (3-0, 1-0 UFC)- Both of these guys are big time wrestlers. O'Brien is coming off a loss to Andrei Arlovski in his last fight and may look to trade with Velasquez. Velasquez has earned TKO victories in each of his three fights.
Kevin Burns (6-1, 1-0 UFC) vs. Anthony Johnson (5-1, 2-1 UFC)- The Iowa based fighter Kevin Burns is coming off an outstanding submission victory over BJJ black belt Roan Carneiro. He has four straight victories. Johnson displayed extreme power in his hands in his KO's of Tom Speer and Chad Reiner. His only loss came via submission to Rich Clementi.
C.B. Dollaway (6-1, 0-1 UFC) vs. Jesse Taylor (6-2)- This was the latest bout announced for the main card. CB is coming off another arm bar loss to Amir Sadollah. Taylor is coming off kicking out a limo window and acting a fool If Taylor wins it could potentially set up a bout with Amir Sadollah, but Sadollah may already be eyeing the 170 division.
Probably Not Televised
Brodie Farber vs. Rory Markham(IFL Vet)
Brad Blackburn(IFL Vet) vs. James Giboo
Nate Loughran vs. Johnny Rees
Shannon Gugherty vs. Dale Hartt
*Interesting Note- The UFC should look at fighter Jason High. He is (6-0) with victories over main card fighter Kevin Burns and under card fighter James Giboo.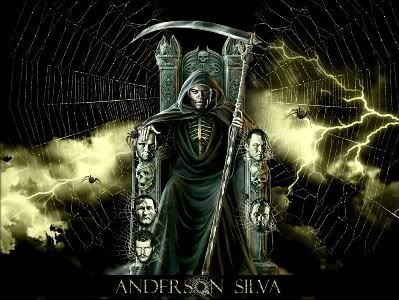 *Cool Anderson Silva pic on photobucket