Rashad Evans def. Forrest Griffin via TKO (punches) R3, 2:46-
Rashad and Forrest traded shots for the first two rounds. Forrest probably got the better of Rashad in the first two with more punches and kicks landed. In the third, Rashad was able to get a takedown from a Griffin kick and then unleashed a flurry of punches and hammerfists forcing the ref to intervene.
(Rashad Evans pictured)
Rashad, with the 205 pound belt in hand, now has to be the most accomplished fighter to emerge from TUF. Evans now has 8 straight official victories inside the octagon. He had three additional wins in TUF that are not official.
*Fight of the Night Bonus
*MMA Blaster readers picked Evans over Griffin 17-15
Frank Mir def. Antonio Rodrigo Nogueira via TKO (punches) R2, 1:54- Frank Mir dominated the fight as Nogueira never mounted any offense. Through the two rounds, Mir looked to be the better striker, knocking Nog to the floor and bouncing his head back throughout the fight. After knocking Nog to the ground in the second, Mir followed with punches until the ref stepped in. While the stoppage may have been a little early, Nog wasn't intelligently defending himself.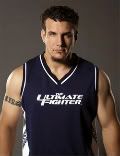 (Frank Mir pictured)
Mir, with Interim HW Belt in tow, will now face Brock Lesnar sometime next year. My guess would be that the fight happens sometime in March or April. This will be a repeat of the fight which ended in a Mir victory via kneebar. Mir was getting beat up before securing the submission in that fight.
C.B. Dollaway def. Mike Massenzio via TKO (strikes) R1, 3:01- CB was technically sound in this fight getting the takedown, mount and then throwing strikes until the ref had to step in and stop the fight.
Quinton "Rampage" Jackson def. Wanderlei Silva via KO (punch) R1, 3:21- Rampage emphatically got the the demons off his back in this fight. After losing a razor thin decision to Forrest Griffin, and a public meltdown, Rampage desperately needed a victory. Rampage landed a flush left hook sending Silva to the ground then followed it with strikes until the ref stepped in.
A fight with Rashad Evans for the 205 pound title will probably be Rampage's next fight. Rampage had lost his previous two fights with Wanderlei.
Cheick Kongo def. Mostapha Al-Turk via TKO (strikes) R1, 4:37- After some inadvertent knees thrown by Kongo, he found his mark. Kongo threw a right hand that dropped Al-Turk then brought elbows and punches until the fight had to be stopped.
Yushin Okami def. Dean Lister via unanimous decision- Lister could not get any offense going in his loss to Okami. Okami used a systematic approach to grind out the decision.
Antoni Hardonk def. Mike Wessel via TKO (strikes) R2, 2:09- Wessel looked good in the first round, but in the second, Hardonk turned the tide. Hardonk got a sweep, then dominant position, then threw strikes until the bout was stopped.
Matt Hamill def. Reese Andy via TKO (strikes) R2, 2:19
Brad Blackburn def. Ryo Chonan via unanimous decision
Patrick Barry def. Dan Evensen via TKO (injury) R1, 2:36