Strikeforce - "Overeem v. Werdum" will air live this Saturday night on Showtime from the American Airlines Center in Dallas, Texas. The event will include the 2nd half of the 1st round of the Strikeforce HW Grand Prix.
The headlining bout pits K-1, Dream and Strikeforce HW title holder Alistair Overeem (34-11) against ADCC champ Fabricio Werdum (14-4). The game plans are obvious in this fight, as Overeem will do his best to strike and keep the fight standing. Conversly, Werdum will do his best to bring the fight to the ground, where Werdum submitted Overeem in 2006 with a kimura in Pride.
Since becoming a full-time heavyweight, Overeem's career has shot off the charts. He is 9-0 in MMA since a September 2007 KO loss to fellow tourney competitor Sergei Kharitonov. Even more impressive, Alistair was able to capture the 2010 K-1 Grand Prix World Championship, defeating kickboxing legend Peter Aerts in the final.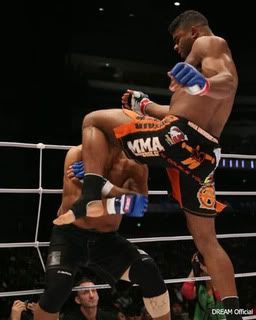 (Overeem KO's Fujita)
Werdum sent shockwaves through the MMA world in his last fight, a one minute long bout with Fedor Emelianenko which saw the Russian tapping. As the bout unfolded, Werdum was punched, went to the canvas, and then baited an aggressive Fedor into the fight ending triangle/armbar choke. The submission won MMA Blaster's submission of the year.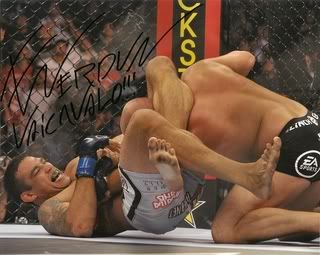 (Werdum submits Fedor)
In other action, former UFC champ Josh Barnett (29-5) meets former Elite XC and Strikeforce contender Brett Rogers. Rogers has slimmed down since his last bout, but will still be looking to use his powerful hands. The smart thing for Barnett to do would be to get the fight to the ground as quick as possible, but he may look to strike first standing.
Josh Barnett fought twice in Japan in 2010, winning via TKO over Geronimo dos Santos and submitting Mighty Mo Siliga. Barnett rose to fame in the early UFC, defeating Semmy Schilt and Bobby Hoffman to earn a title shot against Randy Couture. Barnett would defeat Couture via TKO at UFC 36, but tested positive for three banned substances. Barnett would go on to acheive success in Pride, going to the finals of the 2006 HW Grand Prix.
(Josh Barnett Pride picture)
The hard hitting Rogers rose to fame in the Elite XC when he rattled off four straight wins to earn a fight against Andrei Arlovski. Rogers would go on to knock out Arlovski with a clean shot, catapulting him into a match with Fedor Emelianenko. Unfortunately, Rogers would be TKO'd by Fedor and next to Alistair Overeem. He has since rebounded with a win over Ruben "Warpath" Villareal.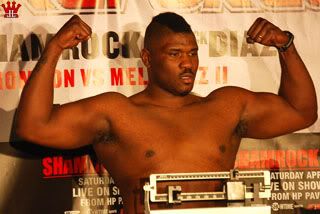 (Brett Rogers pictured)
Here is a look at the card:
SHOWTIME MAIN CARD
Alistair Overeem v. Fabricio Werdum - HW GP
Josh Barnett v. Brett Rogers - HW GP
Daniel Cormier v. Jeff Monson
Chad Griggs v. Valentijn Overeem
Jorge Masvidal v. K.J. Noons
HDNET CARD
Gesias "JZ" Cavalcante v. Justin Wilcox
Magno Almeida v. Conor Heun
Nah-Shon Burrell v. Joe Ray
Mike Bronzoulis v. Todd Moore
Brian Melancon v. Isaac Vallie-Flagg
Strikeforce HW GP Recap Video