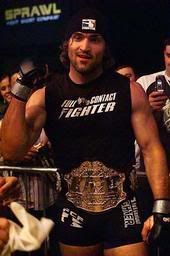 It is rumored and confirmed on various mma websites that Affliction's second show will have a headlining fight between Fedor Emelianenko and Andrei Arlovski. While we haven't yet seen the ppv numbers for the event, the live gate of over 14,500 people generated around 2.1 million dollars. However, the amount of money shelled out in fighter purses seemed very high, and Megadeth seemed out of place.
Arlovski looked excellent in his victory over Ben Rothwell. But, Fedor's 36 second destruction over Tim Sylvia is more impressive.
*Unfortunately, there may be a snag in the match-up as Fedor has apparently suffered a hand injury that may have him out 4-6 months.
*Video of Arlovski v. Zenzov from MFC Euro Championships 2000.