HDNet Fight Preview by the MMA Blaster
HDNet has a pretty good card is set for December 15th in Dallas. For those unfamiliar with HDNet, it is a television channel owned by Dallas Mavericks owner Mark Cuban. The promotion is based out of Dallas and uses the Maverick's arena for the show. Ten of the fighters are from Texas. Here is the fight card:
Jason "Mayhem" Miller (19-5) vs. Tim Kennedy (8-1)
Frank Trigg (15-6) vs. Edwin Dewees (34-10)
Yves Edwards (29-13) vs. Alonzo Martinez (20-8)
Pete Spratt (18-10) vs. Tristan Yunker (12-6)
Chris Bowles (7-1) vs. Cory Mahon (6-0)
Patrick Castillo (3-1) vs. Jay White (1-5)
Krzysztof Soszynski (12-8) vs. Robert Villegas (7-1)
Jason House (7-4) vs. Liam McCarty (6-4)
Lee King (7-11) vs. Marcus Lanier (5-2)
Freddie Espiricueta (5-2)vs. Nissen Osterneck (4-0)
Mayhem v. Kennedy is the match I want to see the most. This is the rematch from their previous fight that Kennedy won by decision. Kennedy explained on 5 Ounces of Pain that it was an extremely bloody fight that was very entertaining.
Overall, this is a great non-ppv card. Five UFC veterens (Spratt, Edwards, Trigg, Dewees, and Miller), IFL vet Soszynski, and other highly touted prospects should make it entertaining.
Mayhem Pic Collage from Photobucket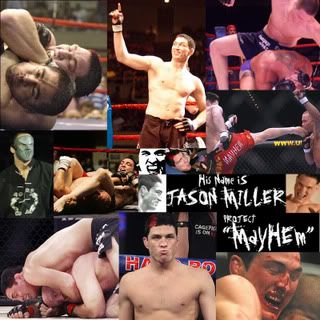 Kennedy kick pic taken by the MMA Blaster