Anaylsis by the Blaster
Apparently another mixed martial arts promotion from Vegas is starting a new event using a team format, ala IFL, called Ring of Fire. They have three very recognizable names in Shamrock, Gracie and Barnett, but Gokor is probably only recognizable to hardcore fans of judo and sambo, as well as Armenians. I don't think they will be fighting, but a Gracie v. Shamrock fight would be nostalgic.
Since the promotion's first event is in the Philippines, I have doubts that we in the US and Europe will get to see much of the action. I am guessing the best way to catch these fights will be the internet. Ken Shamrock is apparently still a coach for the IFL season, don't worry about him jumping ship.
The teams:
Team Gracie
- Cleber Luciano (1-2), Jorge Patino (20-10), Daniel Serafian (?), John Marsh (7-6) and Katrine Alendal (0-1).
Team Barnett
- Koji Oishi (15-7), Yuki Kondo (47-20), Renato "Babalu" Sobral (28-7), Jeff Monson (23-7) and Ginele Marquez (5-7).
Team Gokar
- Karen Darabedyan (2-0), August Wallen (2-1), Rodney Faverus (24-13, KO of Manhoef, w's over Riggs, Kongo, but 2-5 in last 7), Hakim Gouram(?) and Amanda Buckner (10-4).
Team Lion's Den
- Evan Dunham (4-0, small shows), Kyacey Uscola (13-10, 3 straightlosses), Mike Whitehead (19-5, 10 straight wins), Ricco Rodriguez (26-7) and Tonya Evinger (4-3).
Looking at the teams, from left to right for weight classes, it seems that Team Barnett is the clear favorite. Babalu, Monson, Oishi, and Kondo would make a killer IFL team on their own. Right behind I would put Shamrock's team. Teams Gokor and Gracie look to be a touch behind in terms of talent and experience, even though Buckner is probably the most talented of the women. Babalu v. Whitehead would be a good matchup as would Rodriguez v. Monson.
*Why use Ring of Fire? That is a pretty lame name to choose considering it is also the name of a promotion in Colorado, and a Johnny Cash song. Why not come up with something more unique? **The MMA Blaster is full of ideas**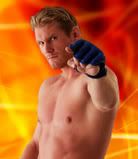 Stock photo of Josh Barnett used incidentally to story.