Here is a quick preview to UFC 86, which takes place on July 5th. I won't be watching live, as I will be in the wilderness. I'll get a review up once I see all the fights.
Quinton Jackson vs. Forrest Griffin (LHW Championship)- Rampage has respect for Forrest's ground game, so expect this one to stay standing. Jackson has been training at a high level, as is Forrest. Both will look to keep this an entertaining fight. Forrest is always in top shape, so don't expect him to gas.
Jackson has six straight victories, including 3 straight in the UFC. Forrest has two straight victories in the UFC since his loss to Keith Jardine. Forrest is coming off a huge victory over Shogun Rua. Jackson is coming off huge wins over Dan Henderson, Chuck Liddell and Marvin Eastman. Both have been on the shelf for quite awhile because of The Ultimate Fighter reality show.
*MMA Blaster pick - Jackson via KO, R3 - WRONG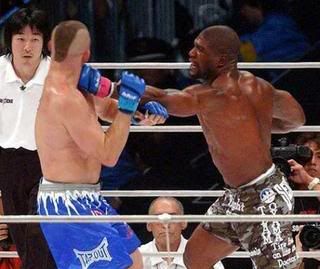 *From Jackson v. Liddell 1
Ricardo Almeida vs. Patrick Cote- This is a grappler (Almeida) v. striker (Cote) match-up. The fight will likely come down to whether or not Almeida can get Cote to the ground. Almeida debuted in the UFC at UFC 31 against Matt Lindland. He had 6 straight wins before he decided to take a four year break. His only fight since his comeback was a Guillotine Choke victory over Rob Yundt at UFC 81. Cote has 4 straight victories since his loss to Travis Lutter in the TUF 4 finale. 3 have been in the Octagon, with his latest a TKO over Drew McFedries.
*MMA Blaster pick - Almeida via armbar, R2- WRONG
Joe Stevenson vs. Gleison Tibau- Stevenson's last fight was a submission loss to BJ Penn in January for the LW title. Tibau is coming off a decision loss to Tyson Griffin.
*MMA Blaster pick - Stevenson via rear naked choke, R3- CORRECT
Josh Koscheck vs. Chris Lytle- Koscheck is coming off an impressive victory over Dustin Hazelett. He will look to keep the fight on the ground and away from Lytle's boxing skills. Lytle is coming off a victory over Kyle Bradley at UFC 81. If Koscheck wins it sets him up nicely for a potential title shot or number one contender match.
*MMA Blaster pick - Koscheck via decision - CORRECT
Marcus Aurelio vs. Tyson Griffin- Tyson currently has 3 straight decision victories in the UFC. Aurelio has two straight victories since a split decision loss to Clay Guida. Both are excellent grapplers, this bout has the potential to be very exciting or slow.
*MMA Blaster pick - Griffin via decision - CORRECT
Undercard
Gabriel Gonzaga vs. Justin McCully - MMA Blaster pick - Gonzaga via submission, R3 - CORRECT
Jorge Gurgel vs. Cole Miller - MMA Blaster pick - Miller via decision - CORRECT
Melvin Guillard vs. Dennis Siver - MMA Blaster pick - Guillard via KO, R2 - CORRECT
Justin Bucholz vs. Corey Hill - MMA Blaster pick - Hill via TKO, R3 - WRONG
*MMA Blaster Picks- 6-3