WEC 34 did not disappoint as it was clearly a better event than Elite XC on CBS. The title fights of Faber v. Pulver and Torres v. Maeda lived up to expectations and were exciting fights.
Urijah Faber def. Jens Pulver via unanimous decision- Faber and Pulver boxed and threw vicious combinations throughout the fast paced fight. For a five round decision, it really didn't get slow. Pulver absorbed most of the damage eating punches standing and eventually on the ground. Both Faber and Pulver had gas in their tanks for the duration of the bout, and left it all on the line. Faber took the decision (50-44 twice and 50-45).
*MMA Blaster pollsters were correct 11-4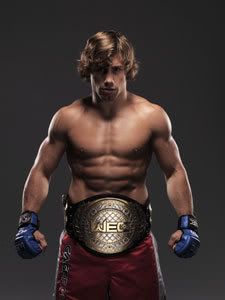 Miguel Torres def. Yoshiro Maeda via TKO, R3, 5:00- Torres and Maeda put on quite a show for the crowd as well. Both stood and traded punches and kicks. Torres was split open on one of the first punches thrown by Maeda in the first round. The mullet wearing Torres didn't let the blood get him down. When Torres was taken down, he immediately looked for submissions and battered Maeda, who did nothing from top position. An interesting sequence that hasn't been talked about was the toe hold Maeda got. Immediately, Torres started striking Maeda from his opposite leg, and then got his own toe-hold on Maeda. A double toe-hold so to speak. At the end of the third, Maeda had taken too much punishment to his left eye, which was swollen shut and Herb Dean stopped the fight. A good stoppage at the end of the round, and Torres defends the belt.
Mark Munoz def. Chuck Grigsby via TKO (strikes)- R1, 4:15- Grigsby came out throwing his jab attempting to use his significant reach advantage. After Grigsby connected on an uppercut, Munoz decided to get the fight to the ground. After stuffing one takedown, Munoz kept at it, eventually getting the fight to the floor. With Grigsby on his back, Munoz was able to throw a leg and land a punches forcing a referee stoppage win for Munoz.
Rob McCullough def. Kenneth Alexander via split decision- This fight was basically three rounds of circling and attempted takedowns. Not much damage was done by either fighter and could have been called a draw.
Donald Cerrone def. Danny Castillo via submission (armbar)- R1, 0:30- Despite his Muay Thai background, Cerrone has really started to use his submission game to perfection. He was successful again, sinking in a nasty armbar from a triangle to seal the win. It was unclear whether Castillo had tapped at first, and it was later revealed that the submission was verbal.
Mike Thomas Brown def Jeff Curran via unanimous dec
Will Ribeiro def Chase Beebe via split dec
Tim McKenzie def Jeremy Lang via sub (Triangle Choke) R3, 0:40
Alex Serdyukov def Luis Sapo via TKO (No Answer) R1, 5:00
Jose Aldo def Alexandre Franca Nogueira via TKO (strikes) R2, 3:22
Dominic Cruz def Charlie Valencia via unanimous dec