The TUF 7 Finale wrapped up Saturday night, and it was overall a decent fight card. There was a ton of filler as usual.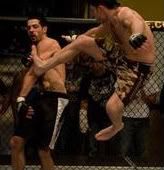 *Amir's attempted jump kick versus Matt Brown in his third fight
Rob Kimmons def. Rob Yundt, Submission (Guillotine choke) R1 3:58
Dean Lister def. Jeremy Horn, Submission (Guillotine choke) R1 3:52
Matt Brown def. Matt Arroyo, TKO (strikes) R2 3:40 - This is the second victory that TUF 7's Matt Brown has posted over Arroyo.
Dustin Hazelett def. Josh Burkman, Submission (Armbar) R2 4:46- This fight wasn't shown on the broadcast, but won fight of the night and submission of the night honors.
Andrew McFedries def. Marvin Eastman, TKO (Punches) R1 1:08- This fight was shown after the main event. It was quick as McFedries scored an uppercut to stun Eastman before a barrage of punches to force a stoppage. McFedries won KO of the night for this knockout.
Matt Riddle def. Dante Rivera, Decision (Unanimous) R3 5:00- Riddle looked in shape and sharp as he beat up Rivera for three rounds.
Spencer Fisher def. Jeremy Stephens, Decision (Unanimous)- This fight was a war, but Fisher edged out the decision with takedowns and elbow strikes. Fisher was throwing the elbows across his body. They proved pretty effective.
Diego Sanchez def. Luigi Fioravanti, TKO (Strikes) R3 4:07- Diego came out throwing heavy leather with Luigi. Luigi stayed tough despite being knocked down by punches. In the third, Diego kept up the heat with a left high kick, knee to the face and some punches to force the stoppage.
Amir Sadollah def. CB Dollaway, Submission (Armbar) R1 3:02 - Amir Sadollah proved his win over CB in the regular season was legit as Amir showed heart yet again. After being taken down by CB, Amir weathered a storm of punches before securing an arm. When Amir tourqed the arm, CB tapped once, and that was enough for Herb Dean to call it. Amir had a never say die attitude the entire season. He scored most of his wins in come from behind fashion, never giving up.
*Come on UFC, only a plaque and a contract? What happened to a wristwatch or a Scion? Show Amir some love.
Kendall Grove def. Evan Tanner, Decision (split)- Kendall was able to control the fight for the duration with his stand up game. Tanner's offense was limited to the clinch and takedown. Grove seemed to land knee's, punches and nearly secured the victory. I had it a unanimous decision for Grove, I don't know how anyone could give it to Tanner.
*Kendall has to use his reach and lanky frame to his advantage in his fights. He gets in trouble when fighters get in close.