In Depth Exclusive on Mixed Martial Artist Charles "the Reverend" Grigsby, by Joe Egloff
Charles "the Reverend" Grigsby of Team Revolution is an up and coming mixed martial artist fighting out of Des Moines, Iowa. He has amassed a 15-3 record since his debut in 2005 and has been particularly busy in 2007, fighting nine times. Watching the highlight reel below you can see the tremendous potential that "The Reverend" possesses. Future opponents better look out for the Reverend's right hand and right knee because they have the type of power that can put someone to sleep in a heartbeat.
Charles Grigsby grew up in Kansas City, Missouri with his sister, Juanette, and mom, Bernice. As a single Mother, Bernice did a great job raising Charles and his sister. Even with a good situation inside the home, the environment outside was a different story. There were few opportunities in the projects of Kansas City and the climate was that of drugs, guns, crime, and gangs. Despite that environment, Charles persevered and protected younger kids in his neighborhood. He apparently caught a few beatings from that, but it just helped mold him into the person he is today. Charles knew at an early age that he had to stand up for himself, his sister and his mother.
Bernice eventually moved the family to Iowa, where Charles and Juanette were able to get a better education. That education led Charles to Grand View College in Des Moines where he excelled on the basketball team. Charles was offered to to play professionally, and jumped at the chance playing first playing in Brazil, and then in Spain. After three years oversees Charles knew he was meant to do something else with his life and hung up his shoes.
Charles entered the mixed martial arts world professionally in 2005. Describing his early days, Charles said, "I was around 243 pounds so I pretty much used all power back then. I was a heavyweight, and if I didn't knock you out or get knocked out in the first few minutes then it was any one's ball game." Even with relative inexperience, Charles started his career off with a bang winning his first seven fights, most by KO, over the course of May 2005 until August of 2006. Unfortunately, the Reverend was humbled in his next three heavyweight fights, losing against quality veteran opponents with wrestling backgrounds. When discussing the losses Charles said, "I learned that your never as good as you think you are." The Reverend knew he needed to expand his game.
After the setback, the Reverend decided to drop down to 205 pounds, light heavyweight, and has not looked back since, winning eight fights in a row. The weight drop left Charles a more conditioned and technical fighter. This year has also seen the Reverend develop a stronger skill set in his stand-up and ground game. The Reverend has changed from his one dimensional stand and trade days as a heavyweight and is a better fighter for it. At 6'6" he is taller and stronger that most of his opponents and uses his size and reach to his advantage.
When asked about his nickname Charles explained that "the Reverend" nickname came about because he practices what he preaches. The philosophy preached is that of Ginsu, the fighting style employed by the Revered. When asked about Ginsu, Charles said the following, "Ginsu represents being sharp, focused and conditioned."
Currently, Charles "the Reverend" Grigsby is the light heavyweight champion for Victory Fighting Championship and the Midwest Cage Championships promotions in Iowa. When asked about the eight fight win streak Charles said, "every single fight I'm doing new things and dealing with adversity better." When asked about the nine fights in 2007 Charles said that, "I was lucky that I stayed healthy and was able to finish my fights without taking damage." He certainly has made a statement to everyone in the 205 division that he will be a big problem for years to come.
When discussing his current fight plans Charles said, "Well, I've got the call, and by the time people see this I'll be contracted for a fight in spring of 08' in Vegas." During our conversation, Chuck described that he will match up well with his opponent and it will be a good fight for TV. I asked what organization he would be fighting under and he said that it will be either in the WEC or UFC, but the terms haven't been completely finalized. That said, Charles will never be happy about just getting on the big stage, he wants the belt. Even so, Charles doesn't need stardom and wants to be the best in his own mind.
When I asked if the Reverend wanted to send a shout out to anyone, he responded, "I would like to thank everyone that was there from the get go. I have seen alot of people come and go who have said they were down for me and believed in me - but the ones who have endured (and you know who you are) I could have never done this without you- Dreams, Goals, Dedication."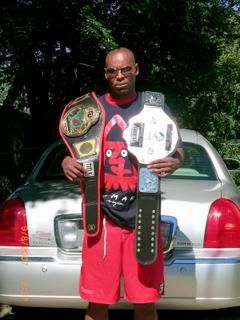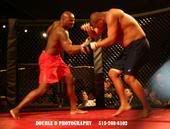 *Big Thanks to the Rev for doing the interview.