The final four in the The Ultimate Fighter have now been determined. The show has been condensed this year, with most episodes showing two fights. In this episode we saw Dan Cramer v. Tim Credeur and CB Dollaway v. Cale Yarborough.
First up was Cramer v. Credeur, and Cramer was ready to fight. Cramer landed virtually all his punches standing, and got one takedown too many. Next thing he knew, Credeur had one of the first heel hook submission wins in TUF tournament history. Credeur was not happy with being beat up for a minute and a half before the submission.
CB took the fight to Cale Yarborough, landing everything he needed to get the fight to the ground. Once there, Cale "turtled" up and took punishment until the fight was called. CB has looked incredibly dominant in the tournament so far, and Rampage is proud of his boy. Meanwhile, Forrest is unhappy about CB being an arrogant guy who backs it up.
FINAL FOUR
Jesse Taylor v. Tim Credeur
CB Dollaway v. Amir Saddaloah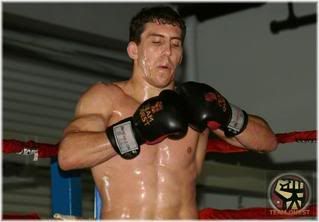 *Pic of Jesse Taylor from photobucket