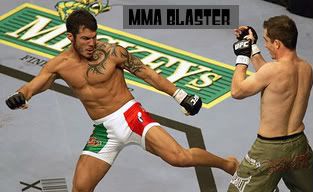 Roger Huerta (20-1, 6-0 UFC) and Kenny Florian (9-4, 7-2 UFC) have emerged as the frontrunners in the 155 pound division. Florian has won four straight, all finishes, after his loss to Sean Sherk. Huerta has six straight victories, four ending by early stoppage. Huerta is coming off a battle with Clay Guida in which he may have been down the first two rounds. Huerta was eventually able to get the rear naked choke for the come from behind victory.
*Close behind would have to be Tyson Griffin (11-1, 4-1 UFC) who has three straight decision victories over quality competition.
*Nate Diaz (9-2, 4-0 UFC) needs to fight Tyson Griffin, Florian or Huerta as he is ready to fight the top tier competition. All his victories have come by submission.
*5'6" Frank Edgar (8-1, 3-1 UFC) may want to move to the 145 division after being bullied by Gray Maynard. The time is right for the UFC to start a 145 division bringing over Faber, Pulver and Garcia.
*Quietly, Matt Wiman (9-3, 3-1) has 3 straight victories in the UFC at 155.
*Gray Maynard (5-0, 3-0 UFC) looked dominant in his victory over then undefeated Frank Edgar. He looks bigger than many of his opponents, but needs to finish opponents.
*Gleison Tibau's (15-5, 4-2 UFC) recent loss Tyson Griffin puts him down the ladder.