UFC 84 lived up to all the hype as all the fights broadcast were entertaining. Quick knockouts, submissions, the end of Tito Ortiz' UFC legacy, and the cementing of BJ Penn's UFC legacy. This was the best card of the year featured a whopping nine fights on the broadcast.
BJ Penn def. Sean Sherk
via TKO, R3 5:00- This fight made the card the best so far this year. Excellent three round stand-up battle. BJ and Sherk boxed the duration of the bout as Sherk tried to get only a couple takedowns. BJ attempted one which did not land. BJ landed strong snapping jabs, damaging Sherk's face repetitively through the night. You really didn't know how hard the jabs were landing until they showed Sherk's face afterwards.
Sherk threw haymakers and attempted to get inside throughout the fight, but they mainly missed or were blocked. You could hear by snapping sounds that Sherk's punches were strong. They end came with seconds left in the third, as BJ landed a beautiful combo dazing Sherk which was followed by a flying knee and strikes. The bell sounded and Sherk looked as if he didn't know he had been saved by the bell. With Sherk still dazed and BJ looking on, the ref did the smart thing and called the fight. Afterwards, BJ was respectful and invited Sherk to Hawaii to train with him.
*MMA Blaster pollsters correct 23-9 Penn.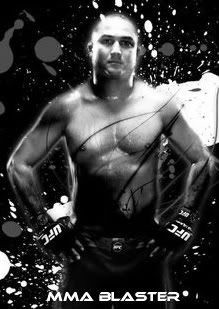 Lyoto Machida def. Tito Ortiz
via unanimous decision (all 30-27)- Lyoto fought an elusive yet snapping karate style. Machida hit Tito's legs with kicks all through the fight. Some of the high kicks looked to almost sneak in. Machida was able to get a takedown on Ortiz and deny all Tito's takedown attempts. Machida's big hit was a crushing knee to Tito's liver in the third. Tito was crumpled, and looked to be in serious trouble as Machida rained down strikes. In dramatic fashion, Tito came very close to getting a triangle with seconds left, and then arm-bar. Lyoto, didn't tap and got the victory.
*Lyoto's striking style and excellent takedown defense will frustrate wrestlers, ground fighters, and aggressive stand-up fighters.
*During a long post fight interview, Tito said he will be fighting for another 3-4 years.
*Tito's shirt said, "I did it my way." A sharp contrast from the weigh-in shirt, "Dana White is my Bitch."
Wanderlei Silva def. Keith Jardine
via TKO, R1 :36- Jardine came out to a crazy bag pipe song while Wanderlei opted up tempo Zombie Nation. Silva landed some absolutely nasty strikes in this bout. Jardine threw a leg kick that was perfectly countered by Silva, as a shot landed flush on Jardine's face. Jardine was hurt and Wandy took advantage pouncing and throwing more bombs. Jardine's eye's rolled back, and it was a little scary for a second, but Jardine eventually walked out under his own power.
*UFC KO of the night bonus.
Thiago Silva def. Antonio Mendes
via TKO, R1 2:24- Mendes came out with a huge head kick that nearly knocked Silva out, despite Silva slightly blocking the kick. While dazed, Silva stayed calm and weathered Mendes' storm. After a takedown, Silva got an opening and threw down massive bombs connecting with Mendes' face, forcing a Herb Dean stoppage.
Goran Reljic def. Wilson Gouveia
via TKO, R2 3:15- The 24 year old Reljic has been hyped quite a bit regarding his striking and undefeated record. From the start of the bout, Reljic threw powerful kicks to the head and body of Gouveia. At the end of the first, Gouveia came back with some flurry's of punches to Reljic that seemed to give him the momentum.
In the second Gouveia seemed to get the best of it standing, got a takedown and had Reljic near the end of his rope. After a scramble, Reljic landed a massive left hand, then a barrage of hammerfists and punches forcing a TKO stoppage.
*UFC Fight of the night bonus given to both fighters.
Rousimar Palhares vs. Ivan Salaverry
via sub. (armbar), R1 2:36- This fight was shown after Wanderlei's quick knockout of Jardine. Palhares got a good body lock throw takedown on Salaverry to start things out. Palahares was textbook as he went from sidemount, mount, rear naked choke attempt to arm bar finish.
*UFC submission of the night.
Yoshiyuki Yoshida def. John Koppenhaver
via sub. (anaconda choke), R1 :56- We were able to see this fight after the BJ Penn fight. Yoshida got a judo throw to a gator roll anaconda choke. Herb Dean saw that War Machine lost consciousness and was out of commission. He made the right move calling the bout. Yoshida did not have much to say afterwards and actually seemed confused that Joe Rogan would want to ask him questions.
Shane Carwin def. Christian Wellisch
via KO, R1 :43- We actually got to see this fight on the ppv and dang!!! Carwin dropped Wellish at 43 seconds in the first round with a vicious right straight directly to the chin. Wellish's mouthpiece shot out of his mouth bouncing off the canvas as Wellish's body hit the ground seconds later. The stands were pretty empty at this point and the fans should feel bad for missing such a nasty KO. I don't understand why fans miss the opening fights.

Rameau Thierry Sokoudjou def. Kazuhiro Nakamura
via TKO(leg injury), R1 5:00- Sokoudjou dished out quite a bit of leg kick variations smashing Nakamura's legs. He seemed to pack some power behind the shots. Near the 4th minute Sokoudjou seemed to fade and favor a taped knee. After one of the shots landed and dropped, Nakamura's knee seemed to buckle. The bout was called shortly thereafter. Nakamura wasn't knocked out, but the injury was too much for the ref to allow him to continue.
Rich Clementi def. Terry Etim
via unanimous decision- not broadcast
Dong-Hyun Kim def. Jason Tan
via TKO (elbows) R3, :25- not broadcast
*David Spade was there and was holding a mini-whiskey bottle, probably Jack Daniels.
*The Rock was there was extremely pearly whites.
*Shaq was in full in attendence. I wouldn't want to be seated behind Shaq.
*Former UFC Heavyweight Champ and Celebrity Rehab castmate Ricco Rodriguez was in Tito's corner.
*Laura Prepon from that 70's Show was seated next to Spade.
*Mandy Moore was there with some hot hot friends.
*The first hour saw less than 20 minutes of fight time, but 9 fights made the broadcast.
*Steve Mazzagati ref'd without the moustache
*In the crowd was Urijah Faber whom Joe Rogan interviewed. Apparently Urijah went to Hawaii to train. WEC got some press during the ppv. Jens seemed excited and ready to go. Versus got quite a bit of advertising.
*As usual, tons of filler and advertising.
*Actor Jason Statham was .