WEC 34 bouts as listed on wec.tv. WEC 34 takes place in Las Vegas on June 1st.
FW (145) Championship- Urijah Faber (20-1) vs. Jens Pulver (22-8)- This should be an absolute war between two of the best at 145. Faber has rattled off 12 straight wins including 5 in the WEC. Pulver has yet to lose at 145 and is considered a legend of sport. Pulver will most likely try to keep the bout standing, and Faber will try for a takedown to ground and pound. It will be exciting.
BW (135) Championship- Miguel Torres (33-1) vs. Yoshiro Maeda (22-4)- Torres has been on fire at 135, after competing mainly at heavier weights. Torres have 14 or so wins in a row, depending on what database you look at. Torres looked fast and powerful in his recent destruction of Chase Beebe. Pancrase veteren Maeda won his only fight in the WEC with a vicious body kick to Charlie Valencia.
Mark Munoz (3-0) vs. Chuck Grigsby (15-3)- Both fighters are making their much anticipated debut's in the WEC. Grigsby at 6'6" is a powerful striker who will have a reach advantage. Look for Grigsby to try to keep the fight standing and land some heavy right hands and knees. Munoz is a decorated NCAA wrestler, and will probably go for the takedown. For a full length exclusive on Grigsby, scroll down.
Jeff Curran (31-9) vs. Mike Brown (16-4)
Rob McCullough (15-3) vs. Kenneth Alexander (5-2)
Jose Aldo (10-1) vs. Alexandre Franca Nogueira (13-4)
Danny Castillo (5-0) vs. Donald Cerrone (7-0)
Alex Serdyukov (8-4) vs. Luis Sapo (6-2)
Charlie Valencia (9-3) vs. Dominick Cruz (10-1)
Tim McKenzie (11-5) vs. Jeremy Lang (12-0)
Chase Beebe (13-1) vs. Will Ribeiro (8-1)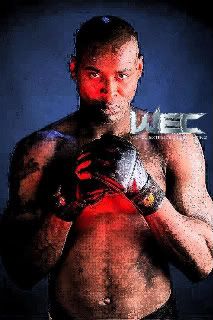 *Charles "The Reverend" Grigsby