Ohhhhhh my. There are three hours of Ultimate Fight Night and one hour of TUF 7 on Wednesday night. I can barely contain myself. The best part is that UFN 13 is absolutely stacked, with a card that is probably better than UFC 83(minus GSP v. Serra).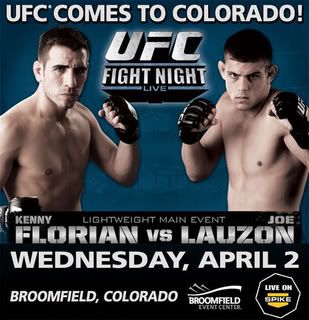 Also, TUF 7 is premiering, with 32 middleweight fighters trying to make it into the TUF house. I really hope they do some sort of seeding for the first round, as there are 16 fighters who either have less than 3 fights or sub 500 records. It would be a shame if two fighters with 5 or 6 wins had to fight in the first round, while two 0-0 guys fought. Scroll down for video on two of the frontrunners, C.B. Dollaway and Gerald Harris.
UFN 13 Lineup:
MAIN CARD
Kenny Florian vs. Joe Lauzon
Thiago Alves vs. Karo Parisyan
Tim Boetsch vs. Matt Hamill
Houston Alexander vs. James Irvin
Nate Diaz vs. Kurt Pellegrino
Frankie Edgar vs. Gray Maynard - Swing bout - Showdown of two elite wrestlers in MMA. I think this fight will broadcast as Alexander v. Irvin will probably end quick.
UNDERCARD
Marcus Aurelio vs. Ryan Roberts
Josh Neer vs. Din Thomas
Jeff Cox vs. Manny Gamburyan
Samy Schiavo vs. Clay Guida
Roman Mitichyan vs. George Sotiropoulos
Anthony Johnson vs. Tommy Speer