Light heavyweight champ Rampage Jackson (29-6, 3-0 UFC) and TUF 1 star Forrest Griffin (15-4, 6-2 UFC) will apparently serve as coaches for The Ultimate Fighter season 7. The show debuts April 2nd immediately following Ultimate Fight Night 13. As UFN 13 will run 3 hours, there will be 4 hours of UFC action. After the show wraps, they will probably fight for the light heavyweight title at UFC 86.
There are also many changes in the show that have been planned for the seventh season. One is that there will be 32 fighters starting out. They have to win on the first day to stay in the house.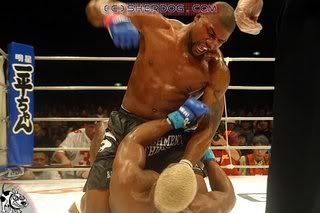 Standouts include: 2-Time All American wrestler Paul Bradley (5-0), All American wrestler C.B. Dollaway (6-0)(video below, 1st Rd TKO of Hans Marrero (11-5) in HDNet Fights), Steve Byrnes (6-1, 1 loss in UFC), Luke Zachrich (7-1), IFL vet Gerald Harris (6-2), Bodog Fight vet Timothy Credeur (9-2)(two losses to MMA vets Chael Sonnen and Joey Villensensor), Jesse Taylor (6-2)(two losses to quality fighters, victory over Jorge Ortiz (13-4)), Mike Marrello (6-1-1)(only loss to an undefeated fighter), IFL vet Dante Rivera (10-2), and IFL vet Mike Dolce (3-4).