UFC 82 had three pretty great fights and two well fought decisions. I've been able to watch most of the undercard fights on Ultimate MMA Videos, see friend links on the right side. The fight of the night went to Anderson Silva and Dan Henderson for good reason. KO of the night went to Chris Leben. Anderson also got the submission of the night. Despite being on the undercard, Arlovski and Diego got quite a reception in Ohio. Here are the results:
Anderson Silva def. Dan Henderson via submission (rear-naked choke) — R2, 4:52 - Dan Henderson was able to win the first round after a body lock takedown and controlling Anderson for the rest of the round. This was accomplished by elbows and short hammerfists to the face, but Anderson looked calm and waited for the bell.
In the second, Anderson landed leg and body kicks to Henderson. Henderson threw punches that failed to meet their mark. They both traded blows before Henderson caught a knee to the head and was taken down. Henderson was dazed and the rear naked choke was sunk forcing Dan to tap. Anderson has secured his legacy as one of the best UFC fighters of all time.
**MMA Blaster pollsters were correct - 29 voted correctly, 25 were wrong!
**MMA Blaster pick correct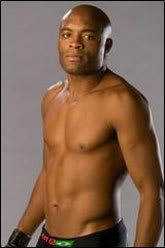 Heath Herring def. Cheick Kongo via split decision - After Herring tagged Kongo with a punch to the face, Kongo took Herring down and was controlled the rest of the round. The second and their rounds saw Herring controlling the ground game and winning the split decision.
**MMA Blaster pick incorrect
Chris Leben def. Alessio Sakara via TKO (strikes) — R1, 3:36 - Sakara seemed to land more punches and have better technique, but Leben landed a powerful left hook that sent Sakara to the canvas, Leben pounced and finished Sakara off for the victory.
**MMA Blaster pick correct
Yushin Okami def. Evan Tanner via KO (knee) — R2, 3:00 - After a couple minutes of boxing, Okami was able to knock Tanner to the canvas and then control him for the first round. The second saw Okami work Tanner over in the Thai clinch landing a knee directly to Tanner's head.
**MMA Blaster pick correct
Jon Fitch def. Chris Wilson via unanimous decision - Fitch controlled most of the fight by getting more takedowns and controlling the action on the ground. Wilson was able to land some combinations. It was a fairly lackluster fight.
**MMA Blaster pick correct
Andrei Arlovski def. Jake O'Brien via TKO (strikes) — R2, 4:17 - O'Brien tried extremely hard for a takedown in the first round, absorbing some punishment before finally getting one. In the second, while pushed against the fence, Arlovski scored a trip takedown from a body lock. From there Arlovski rained down punches before looking at the ref. A couple more shots and the ref stepped in. I originally thought it was a quick stoppage, but O'Brien was definately hurt lying on the ground and didn't look to know where he was afterwards.
**MMA Blaster pick correct
Luigi Fioravanti def. Luke Cummo via unanimous decision
**MMA Blaster pick incorrect
Josh Koscheck def. Dustin Hazelett via TKO (strikes) — R2, 1:24 - After a pretty even first round, Kos overwelmed Hazelett in the second and got the TKO from strikes.
**MMA Blaster pick incorrect
Diego Sanchez def. David Bielkheden via submission (strikes) — R1, 4:42 - Diego fired out of the gate getting the takedown and systematically found the mark with his strikes.
**MMA Blaster pick correct
Jorge Gurgel def. John Halverson via unanimous decision
**MMA Blaster pick incorrect