Review by the MMA Blaster
Brian Stann def. Doug Marshall via TKO (strikes)- R1, 1:35 - The slugfest occured as predicted as Stann and Marshall traded flurries of punches. After a Thai clinch, Stann was able to drop "the Rhino" with a vicious left hand. The Marine Stann is now the new LHW champ of the WEC.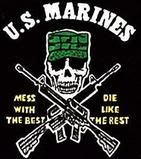 Chael Sonnen def. Bryan Baker via unanimous decision- Sonnen dominated all three rounds and won the decision.
Marcus Hicks vs. Ed Ratcliff via sub (guillotine choke)- R1, 1:42 - As predicted this was a short and entertaining fight. After eating punches, Ratcliff defended guillotine attempts before eventually sucombing. Hicks' nickname is well deserved, he is a "wrecking ball."
Steve Cantwell def. Tim McKenzie via sub (rear-naked choke)- R1, 2:13- Cantwell overwelmed McKenzie with big kicks and punches for the eventual forearm rear naked choke.
Hiromitsu Miura def. Blas Avena via KO (punches)- R1, 2:35
Brock Larson def. John Alessio via DQ (illegal knee)- R1, 1:50
Richard Crunkilton def. Sergio Gomez via unanimous decision
Alex Serdyukov def. Ryan Stonitsch via sub (triangle choke)-R1, 1:35
Chris Manuel vs. Kenji Osawa via split draw
Logan Clark def. Scott Harper via TKO (strikes)- R1, 4:37