Since Pride's demise after being purchased by the UFC, 3 new promotions popped up to try to compete with K1 for Japan's top MMA promotion. World Victory Road, Dream and M1. So far M1 has been a one trick pony. WVR hasn't really come out in the US, I have been able to catch the Josh Barnett fight and the Gomi fight.
Dream is interesting because of the lightweight tournament they have staged. There are 14 fighters that have been all but confirmed for the 16 man tournament. There has been no word on how they were paired. It doesn't look like it was seeded because Aoki and JZ are probably the top two. Other favorites are Ishida, Kawajiri and Hansen.
Main Bouts:
Mirko Filipovic (22-6) vs. Tatsuya Mizuno (4-2)- After two straight losses in the UFC Cro-Cop desperately needs a win to get back on track. Mizuno has fought all his matches in Pancrase and is stepping in for Nakao.
*Cro Cop high kick
Hayato Sakurai (31-7) vs. Hidetaka Monma (14-7)- Sakurai is known for fights in Pride/Shooto/Deep and his title loss to Matt Hughes in the UFC. Two fights ago, Sakurai knocked out Mac Danzig prior to his TUF run. Monma will come into the fight heavy than Sakurai and doesn't have wins over the same level of competition.
Tournament Bouts: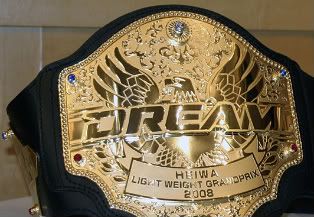 Gesias Calvancante (14-1) vs. Shinya Aoki (14-2)- JZ's only loss was to Joachim Hansen, since winning 12 straight. He has fought mainly in K1. Shooto champ Aoki is a BJJ/Judo black belt who has fought mainly in Shooto and Pride. He has 9 victories in a row including a rare gogoplata of Joachim Hansen, and recent decision over tourney member Jung. I'd put both in the top 5 of the LW division.
Tatsuya Kawajiri (20-4) vs. Kultar Gill (9-6)- Kawajiri is a Shooto champion and Pride veteren who has a victory over tourney member Firminio and is regarded as a top five of the LW division. Gill's last fight was a KO win in K1. Prior to that he lost three straight.
Mitsuhiro Ishida (15-3) vs. Bu Kyung Jung (0-1)- Ishida is a Pride/Shooto veteren with a victory over tourney member Boku and is a top ten LW. Jung is a judo expert who lost a decision to Aoki in his only MMA bout.
Kazuyuki Miyata (5-6) vs. Luiz Firmino (11-3)- Miyata has fought his last 10 in K1, including a win over tourney member Gill. Firmino hasn't fought since a win in Pride in November of 2006. His biggest win is probably over Masakazu Imanari (14-5)in Pride.
Eddie Alvarez (12-1) vs. Andre Amade (6-2)- Alvarez has recently fought in Bodog and ShoXC with his only loss to Nick Thompson (35-9) at 170. Amade has fought his last four in K1, including a win against Caol Uno.
Artur Oumakhanov (7-2) vs. Katsuhiko Nagata (3-2) - Artur's two losses were in his last fight in Pancrase to Shoji and a K1 loss to Amade. All of Nagata's bouts are in K1, losses to Uno and Akiyama, wins against above .500 competition.
Kotetsu Boku (13-4) vs. Joachim Hansen (16-6)- Boku has wins in Shooto/K1/GCM. Hansen is a Pride/Shooto/K1 vet who just beat tourney member Miyata in K1, and is the only person to beat JZ Calvancante.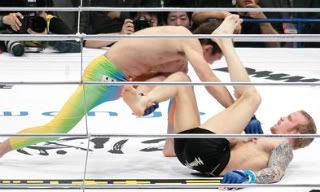 *Hansen v. Aoki in Pride