By MMA Blaster
Frank Shamrock (23-8) has had a long MMA career that has had its ups (11 fight win streak, 5-0 UFC) and downs (3 losses in a row). Frank has held belts in the UFC, Pancrase, Strikeforce (current MW champ), WEC and the WKC submission grappling championship (over Dan Henderson). He was initially trained under his brother Ken Shamrock, but has since moved on to his own gym and has trained some of the best in the world. Unfortunately, his IFL team was disbanded as part of their "revamping" period.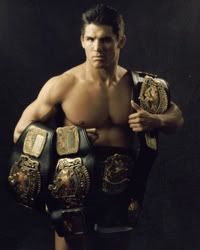 Frank started his career in Pancrase on December 16, 1994, were he beat Bas Rutten (28-4) in his first ever MMA bout. He eventually won the King of Pancrase belt from Minoru Suzuki (28-20) and posted victories over Takafumi Ito (33-26), legend Masakatsu Funaki (38-12), Vernon White (25-32) and other veteren Japanese fighters in Pancrase.
Frank Shamrock entered the UFC winning the Middleweight belt (now LHW) over wrestling olympic gold medalist Kevin Jackson (4-2) with an arm bar in 16 seconds. He then slammed undefeated Igor Zinoviev (4-1) into retirement in 22 seconds in his first title defense. He subbed Jeremy Horn (79-16) with a kneebar and beatdown John Lober in his next two defenses. Shamrock defended the belt once more in one of the best fights in MMA history against Tito Ortiz (15-5).
After a disagreement with the UFC, Frank left and fought once in K1 beating Elvis Sinosic. In 2003 Frank came back to win the WEC light heavyweight title in 1:47 with an armbar over Brian Pardoe (12-9). Since his comeback in 2006, Frank looked impressive in his wins against Phil Baroni (10-8) and quick KO of Cesar Gracie. Shamrock did not look very good in his DQ loss to Renzo Gracie.
Highlight Video:
Gif of Frank Shamrock v. Phil Baroni at Strikeforce/Elite XC