UFC 94 kicks off this Saturday, January 31st at the MGM Grand in Las Vegas. The BJ Penn v. GSP fight is being hyped up as the Superbowl of MMA. We will see how the card plays out, hopefully Machida is feeling peppy. All fighters made weight, with former heavyweights Christian Wellish and Jake O'Brien debuting at 205 pounds.
MAIN CARD
Georges St. Pierre vs. B.J. Penn- This fight is being hyped as the fight of the year. The undisputed king of the 170 pound class versus the king of the 155 pound class. In addition, this is a rematch of a match from UFC 58 where BJ lost a close split decision. I would expect to see GSP go for the takedown early and often. The question in this fight may come down to whether or not BJ can get a submission off his back.
Since a crazy upset loss to Matt Serra, Georges St. Pierre has been on quite a streak. He has outwrestled Josh Koscheck, armbarred Matt Hughes and punished Matt Serra and Jon Fitch since that loss. Georges is an incredible athlete, with suberb striking, cardio and wrestling ability. Georges also holds wins over Jay Hieron, Sean Sherk, Mayhem Miller and Frank Trigg.
(Georges St. Pierre pictured)
Since a disappointing loss to Matt Hughes at UFC 63, BJ Penn reinvented himself at 155, dominating his competition. He won over Jens Pulver following TUF 5, then crushed Joe Stevenson for the interim 155 pound title. He then went on to outstrike and eventually TKO Sean Sherk to unify the 155 pound title. BJ will be looking to strike with GSP and possibly go for a submission. If BJ has one clear advantage, it would be in the submission game. BJ also has wins over Duane Ludwig, Takanori Gomi, and Caol Uno.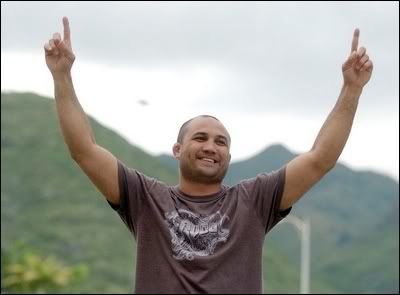 (BJ Penn pictured)
Lyoto Machida vs. Thiago Silva- Someone's undefeated status will be loss against in this battle for the number one contender spot at 205 pounds. Machida is a karate and BJJ black-belt who utilizes a countering style that frustrates many opponents. Silva, who owns a great ground game rarely uses it. Silva instead uses his heavy hand to knock his opponents out.
I expect this fight to remain standing, with Machida waiting to capitalize on a Silva mistake. Machida is 13-0 with victories over Rich Franklin, Stephan Bonnar and BJ Penn outside the UFC. He holds wins over Sokoudjou, Tito Ortiz, Kazuhiro Nakamura, David Heath and Sam Hoger inside the UFC.
(Lyoto Machida pictured)
Thiago Silva (13-0) has ten knockouts and two submission wins in his career. He has beaten Antonio Mendes, Houston Alexander, Tomasz Drwal and James Irvin in the UFC. I expect Silva to try to get in close on Machida to throw punches in the clinch.
Stephan Bonnar vs. Jon Jones
Karo Parisyan vs. Dong Hyun Kim
Nate Diaz vs. Clay Guida
UNDER CARD
Jon Fitch vs. Akihiro Gono
Manny Gamburyan vs. Thiago Tavares
John Howard vs. Chris Wilson
Jake O'Brien vs. Christian Wellisch
Matt Arroyo vs. Dan Cramer