UFC 93 will occur on January 17th in Dublin, Ireland. The event features no title fights, but big bouts in Rich Franklin v. Dan Henderson and Mauricio "Shogun" Rua v. Mark Coleman as well as the arrival of Denis Kang. The fights will be shown on ppv. All fighters made weight. Henderson weighed in at 202 and Mark Coleman came in at 206.
MAIN CARD
Dan Henderson vs. Rich Franklin-
This fight will likely determine the coach for the next season of the Ultimate Fighter. Franklin seems to have the edge standing in the match and will have a little bit of a height and reach advantage on Henderson. Henderson should have a sizable advantage grappling wise, but Franklin usually makes people pay when they try to take him down.
Dan Henderson (23-7), the former Pride LHW and MW champ, last fought against Rousimar Palhares winning by unanimous decision. His previous two fights were losses to Anderson Silva and Rampage Jackson, two of the best in the sport. Henderson has wins in his career over Wanderlei Silva, Vitor Belfort, Antonio Rodrigo Nogueira, Murilo Bustamante and Renzo Gracie.
(Dan Henderson pictured)
Rich Franklin (24-3), the former UFC MW champ, last fought against Matt Hamill winning with a vicious body kick and punches in the third round. Rich has wins over Yushin Okami, Travis Lutter, David Loiseau, Evan Tanner and Nate Quarry in his career.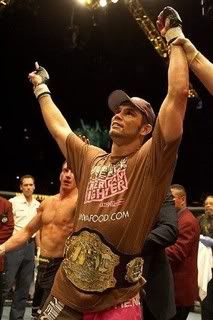 (Rich Franklin pictured)
Mark Coleman vs. Mauricio "Shogun" Rua
- This fight is a repeat of a prior match-up in Pride which Coleman (15-8) won after a takedown in which Rua's elbow dislocated. Both marquee fighters have been on the shelf for some time due to injuries and other setbacks. Coleman was orginally a rumored opponent for Brock Lesnar, but Coleman sustained a back injury. Rua meanwhile went into the Forrest Griffin fight with a bad knee and has been recovering from surgery since that fight.
Coleman, the Pride 2000 Open Weight Grand Prix winner is also a UFC Hall of Famer, capturing the UFC 10 and 11 tournament championships(4 man) and the HW crown at UFC 12. He is credited with developing the ground and pound strategy and being one of the best wrestlers in MMA during his prime. Coleman has victories over Dan Severn, Don Frye, Igor Vovchanchyn and Kazuyuki Fujita.
(Mark Coleman pictured)
Shogun Rua, (16-3) the 2005 Pride Grand Prix (93 kg) winner, was a fast rising star in Pride before its eventual demise. Rua is known for his quickness and striking ability. He has wins in his career over Alistair Overeem, Kevin Randleman, Antonio Rogerio Nogueira(lil Nog), Rampage Jackson, Ricardo Arona and Akihiro Gono.
(Shogun Rua pictured)
Alan Belcher vs. Denis Kang
- This will be high profile Pride and Spirit MC veteran Denis Kang's (31-10) debut in the UFC. Kang has solid grappling skills, possessing a BJJ black belt, and has developed a decent stand-up game. He has wins over Aikhiro Gono, Andrei Semenov, Murilo "Ninja" Rua and recently over Marvin Eastman via 49 second TKO.
(Denis Kang pictured)
Belcher (13-5) will try to keep this fight standing in order to utilize his Muay Thai skills. Belcher's last fight was a close split decision victory over Ed Herman at an Ultimate Fight Night in September. Belcher has a 4-3 record in the UFC, with a KO victory over highly ranked Jorge Santiago, guillotine choke victory over Sean Salmon and a TKO of Kalib Starnes.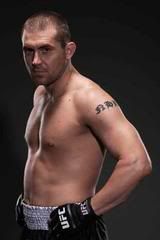 (Alan Belcher pictured)

Jeremy Horn vs. Rousimar Palhares
- Horn's record is listed as 80-18, but he has fought more than the listed record indicates. The 13 year mma veteran debuted in the UFC at UFC 17 losing to Frank Shamrock for the light heavyweight title (then called middleweight with a 200 pound cut-off). Horn's career highlight was an arm triangle choke of Chuck Liddell at UFC 19. Horn has looked like age may be catching up with him in recent losses to Dean Lister and Nate Marquardt, but still has amazing submission skills with about 50 submission wins in his career. Horn has victories over Daiju Takase, Gilbert Yvel, Travis Fulton, Forrest Griffin, David Loiseau, Chael Sonnen, Trevor Prangley, Falaniko Vitale and many others in his mma career.
(Jeremy Horn pictured)
Rousimar Palhares is an elite submission fighter with a BJJ blackbelt under Murilo Bustamante. Palhares last lost an uneventual decision to Dan Henderson in which Henderson was unwilling to engage with him on the ground. Palhares debuted in the UFC with an excellent armbar victory over Ivan Salaverry.

Marcus Davis vs. Chris Lytle
- This fight promises to be an all out war on the feet. Lytle and Davis have pro boxing backgrounds and will look to use those talents to please the crowd. Both fighters usually please the crowd, having won fight of the night, knockout of the night and submission of the night bonus' from the UFC.
Entertaining the crowd aside, each fighter needs a win at this stage of their career. Davis suffered a loss to Mike Swick at UFC 85 before rebounding at UFC 89 with a guillotine choke victory over Paul Kelly. Lytle had a decision loss to Josh Koscheck at UFC 86 and rebounded with a razor thin decision victory over Paul Taylor at UFC 89. At UFC 89, Lytle asked for a fight with Davis during his post-fight interview.
UNDER CARD
Alexandre Barros vs. Martin Kampmann
Antonio Mendes vs. Eric Schafer
Thomasz Drwal vs. Ivan Serati
Tom Egan vs. John Hathaway
Denis Siver vs. Nate Mohr