2008 was an awesome year for mixed martial arts. With the year wrapped, I've got some awards to hand out. They choices were difficult, so if you have any some comments feel free to leave them.
Fighter of the Year (UFC)
- Anderson Silva- Anderson remained dominant in 2008 as he defended the MW belt with wins over Dan Henderson and Patrick Cote. He also defeated James Irvin in a match at 205 pounds for three wins in the UFC for 2008. As usual, Anderson did not let any match go to the judges hands. He won over Henderson via rear naked choke, Irvin via nasty KO, and Cote after he injured his knee. It was also nice to see him appear on The Ultimate Fighter Season 8.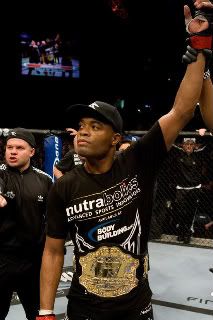 (Anderson Silva pictured)
*Runner-up- Rashad Evans- won twice over top ten opponents, defeating Chuck Liddell via first round KO to get the number one contender spot and then Forrest Griffin via TKO for the LHW belt.
*Runner-up- BJ Penn- won twice over top ten opponents, defeating Joe Stevenson for the LW belt via rear naked choke then Sean Sherk in a great fight where BJ finsihed sending Sherk to the fence and finishing him with knees and punches.
*Runner-up- Georges St. Pierre- won twice in convincing fashion beating Matt Serra to unify the WW belts via 2nd round TKO and defending the belt against Jon Fitch in an epic 5 round decision.
Fighter of the Year Outside UFC
- Gegard Mousasi- Mousasi had a busy 2008, winning the Dream middleweight tournament with wins over dangerous striker Melvin Manhoef, world class grappler Ronaldo "Jacare" Souza, elite judoka Dong Sik Yoon, and Pride and K-1 vet Denis Kang. Outside Dream, Mousasi claimed victories over Steve Mensing and the gritty veteran Cyborg Santos. With 6 mma wins, Mousasi also won a K-1 rules match over Musashi via first round TKO. Mousasi's 6-0 mma record (3 KO/TKO's, 2 subs and 1 dec) and 1-0 K-1 record for 2008 make him an easy choice for this honor.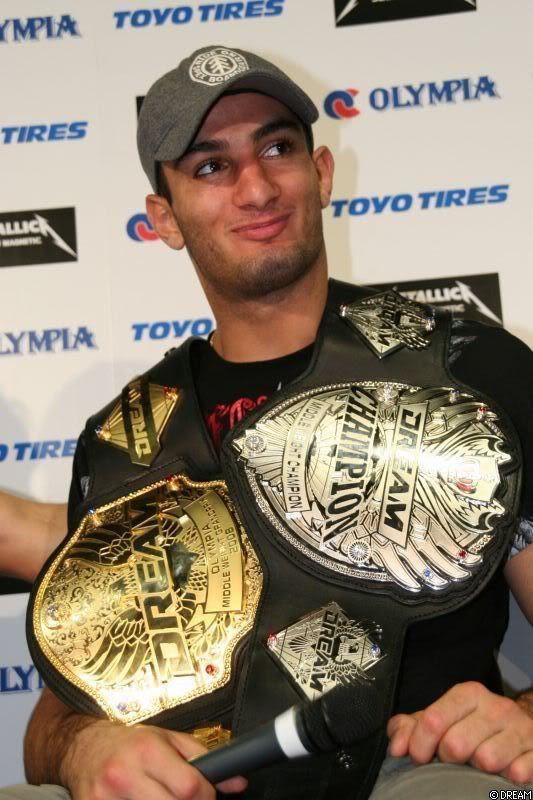 (Gegard Mousasi pictured)
Fight of the Year-
Cung Le v. Frank Shamrock,
Strikeforce, March 29, 2008-
The fight was three rounds of non-stop action. Frank kept to his word and preferred to stay on his feet. He attempted a takedown only one time, with the announcers eluding to a possible ACL injury. While standing, Cung got the most of Frank with his assortment of kicks, punches, spinning backfists, and a couple leg catches. The leg catches were very impressive, as Cung caught the leg of a Shamrock high kic and blasted Shamrock's grounded ankle with a sweep kick (reminiscent of San Shou).
Frank was able to land a couple kicks on Cung and was able to close the distance in the third round. When in close, Frank did some damage with punches. However, it was only temporary as Cung was able to break away. Cung's kicks proved too much for Frank in the end as he broke his ulna(forearm) while defending high kicks, not answering the bell in the third. This fight is an absolute must see.
(Cung Le kick of Frank Shamrock pictured)
Runners Up- Joachim Hansen v. Eddie Alvarez, Urijah Faber vs. Jens Pulver, Forrest Griffin vs Rampage Jackson, Jon Fitch v. Georges St. Pierre, BJ Penn v. Sean Sherk, too many to list.
Submission of the year-
Three way tie- Shinya Aoki's mounted gogoplata over Katsuhiko Nagata, Demian Maia's mounted triangle over Ed Herman, and Dustin Hazelett's arm bar over Josh Burkman. All are works of art and should be viewed over and over again. Fight fans will see all three of these guys getting more awesome submissions in 2009.
Runners Up- Marcus Aurelio's armbar over Ryan Roberts, Mitsuhiro Ishida's armbar over Justin Wilcox, C.B. Dollaway's Peruvian Necktie over Jesse Taylor, and Frank Mir's kneebar victory over Brock Lesnar.
KO of the year punch(2-way tie)
- Rampage Jackson KO of Wanderlei Silva and Rashad Evans KO of Chuck Liddell. Rampage had lost twice to Wanderlei before this fight via big knockouts. In the first round, Rampage ducked Silva's blow and unleashed a left hook that crushed Silva directly on the chin, leaving him unconscious.
Rashad Evans was able to get the number one contender status after blasting Liddell into the next hemisphere. Rashad placed a devastating right hand to Liddell's chin while Liddell was throwing an ill advised uppercut.
Runners Up- Jeremy Stephens come from behind uppercut KO of Rapheal Dos Anjos, Wanderlei Silva mauling of Keith Jardine, and Josh Koscheck over Yoshiyuki Yoshida.
KO of the year kick
- Rory Markum's high kick KO of Brodie Farber. Rory was losing the fight after being tagged several times by Farber. While backing up, Rory threw the high kick with his shin striking Farber's neck. Farber was out cold.
Runners Up- Anthony Johnson's third round high kick KO of Kevin Burns for revenge from a previous eye poke and Gegard Mousasi's upkick KO of Jacare to win the Dream MW tourney championship.
Top Up and Coming Fighter
- Dave "Pee Wee" Herman (13-0). The undefeated heavyweight prospect Herman scored four victories in 2008, including three for the now defunct Elite XC organization. Herman TKO'd Kerry Schall, Ron Waterman, Mario Rinaldi and Chris Guillen. Only Rinaldi was able to get out of the first round. The 6'5" Herman is very athletic and can throw a variety of punches and kicks while possessing a wrestling background from the University of Indiana.