Here is the rumored card for Affliction: Day of Reckoning which takes place this Saturday. The under card will be shown live on HDNet. The fights will take place at the Honda Center in Anaheim, California.
MAIN CARD
Fedor Emelianenko vs. Andrei Arlovski-
Fedor's lone mma appearance in 2008 was a 36 second destruction of former UFC champ Tim Sylvia. Fedor will most likely try to bring the fight to the ground in an attempt to submit Arlovski. Then again, Fedor may try to use his boxing to take out Arlovski.
A highly decorated fighter that some call the greatest of all-time, Fedor has beat the best fighters at their primes. We will see how much longer Fedor's reign can continue. Fedor holds wins over Tim Sylvia, Antonio Nogueria, Mirko Cro Cop Filipovic, Renato "Babalu" Sobral, Semmy Schilt, Ricardo Arona, Heath Herring, Gary Goodridge, Tsuyoshi Kohsaka, Mark Coleman, Mark Hunt, Matt Lindland, Naoya Ogawa, Kevin Randleman and Kazuyuki Fujita.
(Fedor choking out Tim Sylvia)
If Arlovski has one thing going for him, its a lack of ring rust. Arlovski fought three times in 2008 earning TKO/KO wins over Jake O'Brien, Ben Rothwell and Roy Nelson. The former UFC heavyweight champ will likely try to utilize his boxing skills that he has been honing recently with legendery boxing coach Freddie Roach. Arlovski has beat Vladimir Matyushenko, Justin Eilers, Tim Sylvia (w/two losses), Paul Buentello and Ian Freeman in the UFC.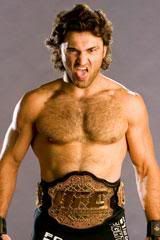 (Andrei Arlovski pictured)
Josh Barnett vs. Gilbert Yvel-
Barnett is an absolute monster in the submission game. In his three appearances in 2008 Barnett won over Jeff Monson via unanimous decision, Hidehiko Yoshida via heel hook and in his most impressive performance KO'd legendary striker Pedro Rizzo.
Josh Barnett has victories over Mirko Cro Cop, Aleksander Emelianenko, Semmy Schilt, Dan Severn, Mark Hunt and Yuki Kondo in his career. With 14 of his 23 victories won via submission, common logic would seem to lend Barnett going for a submission. Barnett should have a weight advantage in this fight.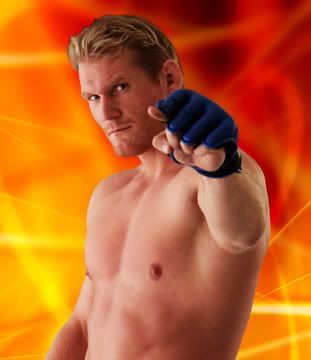 (Josh Barnett pictured)
Gilbert Yvel (35-12) is a controversial figure in the mma world. He infamously has eye gouged Don Frye and KO'd a referee. What's lost is that he has a solid resume with 30 wins via KO/TKO and 5 sumission victories. His big wins have come against Semmy Schilt, Tsuyoshi Kohsaka, Cheick Kongo, Valentijn Overeem and Fabiano Scherner. Gilbert will look to get a KO on a takedown attempt.
(Gilbert Yvel throwing the knee)
Vitor Belfort vs. Matt Lindland- These two ten year UFC vets will fight in an interesting 185 pound contest. Vitor Belfort (17-8) last defeated UFC vet Terry Martin at the first Affliction with flashes of his devastating striking style. Vitor is currently on a three fight win streak and has victories over Randy Couture, Heath Herring, Wanderlei Silva and Gilbert Yvel.
(Vitor Belfort pictured)
Matt Lindland, the former Olympic silver medalist in Greco Roman wrestling will carry a chip on his shoulder after a decision victory of Fabio Nascimento at the first Affliction. Previous to that fight, Lindland lost to Fedor in Bodog Fight. Lindland has victories over Jeremy Horn, Carlos Newton, Joe Doerkson, Travis Lutter and Pat Miletich.
(Matt Lindland pictured)
Renato "Babalu" Sobral vs. Rameau Thierry Sokoudjou
Paul Buentello vs. Kiril Sidelnikov
UNDER CARD (HDNet)
Vladamir Matyushenko vs. Antonio Rogerio Nogueira
Jay Hieron vs. Jason High
L.C. Davis vs. Bao Quach
Antonio Duarte vs. Albert Rios
Patrick Speight vs. Brett Cooper
*Chris Horodecki vs. Dan Lauzon- scratched due to a Horodecki bulging disc.