I will be at UFC 90 this weekend in my hometown of Chicago, Illinois. Just a short trip on the blue-line will send me to the Allstate Arena in Rosemont to see one of the best mixed martial artists of all-time, Anderson Silva. Needless to say, I am ecstatic.
MAIN CARD
Anderson Silva (22-4, 7-0 UFC) vs. Patrick Cote (13-4, 4-4 UFC)
- MW Title Fight- Anderson Silva is on the most dominating run in UFC history winning the belt in his second UFC fight and defending four times, then beating James Irvin at 205. Not one fight has entered the third round. Rich Franklin's nose has been destroyed twice. Nate Marquardt was dominated, and Dan Henderson choked out. Anderson has displayed some of the finest stand-up skills ever seen in mma fighting.
Cote has a tall task ahead of him if he wants to stomp out the Spider. Cote is on an impressive run, winning five straight with four wins in the UFC. He has beaten Ricardo Almeida, Drew McFedries, Kendall Grove and Scott Smith in the UFC and Jason Day in the Canadian based TKO promotion during that time.
The fight will be a stand-up affair. Cote has a strong chin and will be able to take punches. Cote will have to look to counter and throw his punches with precision, while blocking Anderson's kicks. Silva has the superior ground game, and may use it to take out Cote if eating too many blows.
Thiago Alves (15-3) vs. Josh Koscheck (11-2)-
Koscheck is replacing Diego Sanchez who had to withdraw due to injury. Alves is on a big run with 6 victories in the UFC including TKO wins over Matt Hughes, Karo Parisyan and Kuniyoshi Hironaka. Koscheck meanwhile has rattled off two wins since his loss to Georges St. Pierre. He looked excellent in his recent wins over Dustin Hazelett and Chris Lytle.
I expect Koscheck to try a takedown to ground and pound as he is a superb wrestler. Alves meanwhile is a devastating striker who will try to keep this one standing. It will be interesting to see how the fight unfolds and the winner will be positioning themselves for a potential shot at the title.
*pic of Thiago AlvesFabricio Werdum (11-3) vs. Junior dos Santos (7-1)-
Poor Fabricio Werdum. With the Lesnar/Couture and Mir/Big Nog match-ups in place, it will likely take Werdum to win this fight and another against one of the aforementioned big four to get a shot at the title. Werdum has quality wins over Gabriel Gonzaga and Brandon Vera since his uneventful loss to Andrei Arlovski.
Dos Santos is an unknown fighter hailing from Brazil. All his wins seem to have come in Brazil against quality local fighters. We will see what "Cigano" is made of when he faces Werdum. Werdum has wins against Aleksander Emelianenko, Roman Zentsov, Alistair Overeem and Tom Erickson on his resume.
*pic of WerdumTyson Griffin (12-1) vs. Sean Sherk (32-3)-
Sherk is attempting to rebound from his loss for the title against BJ Penn. The previous fight happened with the dark cloud a failed appeal for a postive Sherk steroid test. Griffin has four straight decision victories in the UFC since his loss to Frankie Edgar. That includes wins over Marcus Aurelio, Thiago Tavares, and Gleison Tibau. Prior to Sherk's loss to Penn, he had won three straight times in the UFC via decision over Hermes Franca, Kenny Florian and Nick Diaz.
Sherk is going to be looking for a takedown and ground and pound. I would expect Griffin to try to keep the fight standing. We could see a lot of clinching from Sherk to wear down his oppoenent.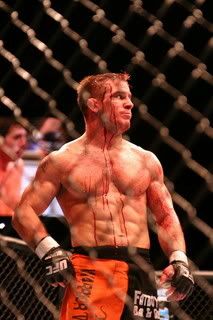 *pic of Sean SherkRich Clementi (32-12) vs. Gray Maynard (5-0)-
Clementi is riding a six fight win streak, with four straight in the UFC over Sam Stout, Anthony Johnson, Melvin Guillard and Terry Etim. Maynard meanwhile has three straight victories in the UFC over Joe Veres, Dennis Siver and Frank Edgard. Expect Maynard to look for the takedown and Clementi to keep the fight standing.
UNDERCARD
Thales Leites vs. Drew McFedries
Spencer Fisher vs. Shannon Gugerty
Matt Horwich vs. Dan Miller
Marcus Aurelio vs. Hermes Franca
Josh Burkman vs. Pete Sell