In depth exclusive by MMA Blaster, text copyrighted
Shah "Hollywood" Bobonis is a 145 pound up and coming fighter from Miami, Florida. You could say Shah was born a fighter as he has been boxing since he could walk. This "showstopper" will be turning heads for some time in the mixed martial arts world. Shah's next bout will be on October 18th in Parris Island, South Carolina, for the ICF Featherweight Title.
Shah was born in Texas, but spent some years in Puerto Rico before moving to Miami. As he has continually gone back to Puerto Rico throughout his life, Shah explained, "Fighting is part of the culture in Puerto Rico. If you have differences, you settle it with your fists."
The graduate of Miami Southridge High School began wrestling in junior high and made the state tournament as a freshman at Southridge. As a sophomore, Shah suffered a knee injury which put him on the shelf for the rest of his high school wrestling experience. However, he continued to play competitive baseball which resulted in him being drafted by the Seattle Mariners in his senior year of high school.
Shah decided against going pro and instead played baseball in college. Shah eventually graduated from University of West Georgia. With his college degree in hand, Shah began a career in restaurant management. With a good job managing a P.F. Chang's, Shah still sought out athletic challenges. He decided to begin boxing again and fought on the amateur circuit.
While training his boxing skills at Tropical Park Boxing Gym in Miami during his off-hours, Shah met accomplished mixed martial artist Jorge Masdival. Jorge who was working on his stand-up game and clued Shah into the mixed martial arts scene. That led Shah to the Freestyle Fight Academy, FFA. Masdival recently defeated former IFL champ Ryan Schultz in Japan.
During his time at FFA, Shah trained very hard increasing his jiu-jitsu game as well as his overall mixed martial arts skill set. After winning a kickboxing fight and a couple NAGA tournaments, Shah was eager to make his professional mma debut.
Shah was contacted about fighting his debut mma match in Costa Rica. Fighting in Costa Rica is a little different than fighting in the United States. According to Shah, "those Costa Rican's really root for their own guys. If you aren't Costa Rican you are the bad guy out there. It's a pretty hostile environment." Shah's debut was very successful as it resulted in a nasty 20 second knock out of his opponent.
After that fight Shah dedicated himself to the gym. He said, "I wanted to be in the gym all the time." Despite the cushy job at P.F. Chang's, Shah knew his path was in martial arts, and the guys at FFA let him know he can succeed and make money in mma world. He quit P.F. Chang's, was given a job at FFA as an instructor, and he hasn't looked back since. Recently, the XFC offered Shah a position to help run a gym in Miami and he jumped at the opportunity.
Shah has kept very active as a young mma fighter, fighting seven times between September 2007 and September 2008. He has learned much about himself and his style during that time. When asked about his busy schedule, Shah explained, "[m]ixed martial arts really doesn't take as much out of my body as boxing did. Within a couple weeks I want to get back out there and fight." In addition, Shah explained that his ability to fight off his back, his submission game and wrestling ability have dramatically improved from his first fight to now.
Shah describes himself as a stand-up fighter who likes to stand and trade. He has solid wrestling, but has mostly used wrestling to sprawl and defend take downs. Shah said, "I'd like to use my wrestling more offensively and work my submission game. I have better wrestling that 70% of the guys out there."
As for goals in the sport, Shah has the ICF and XFC belts in his sights. His goal is to get the belts and defend against other champs and contenders. Eventually a shot at the WEC could be in Shah's future. Down the road, Shah hopes to one day become a black belt in Brazilian Jiu-Jitsu and open his own gym to train fighters.
Shah would like to thank everyone at the FFA, as they helped him follow his dreams. Shah credits much of his success to his coaches, Haki Lee and Jerry Norton. He'd also like to thank the XFC and ICF for the opportunities he has been given. In regards to sponsors, Shah would like to say thanks to Brawl and Maul who have been behind him for some time now.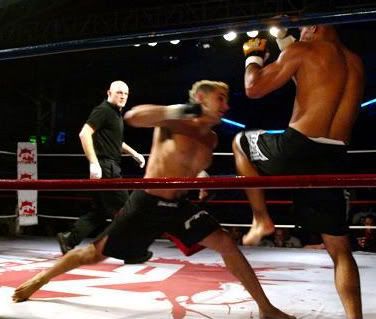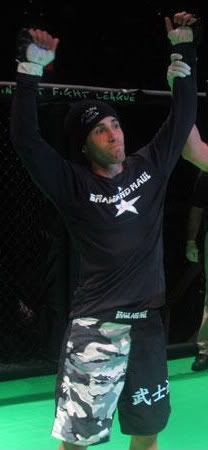 *Text is copyrighted by MMA Blaster. Photo's used with the permission of Shah Bobonis