Story by Joseph Egloff of MMA Blaster
Efrain Lopez def. Arti Goodist via sub(rear naked choke), :45 R1
- This was the first legal mma fight in the state of South Carolina. The bout unraveled quickly as Efrain landed a quick right hand, got a double leg takedown, and then was able to get mount to a rear naked choke. Efrain was extremely happy with the result as he jumped on top of the cage almost going over. The crowd went nuts.
Chris "Chaos" Scott def Mike Shannon via sub(armbar), :40 R1
– Mike Shannon came out aggressive getting a good slam takedown that produced a good noise from the floor. With the crowd whipped up, Scott got to his feet and threw a body kick which Shannon used to take him down again. Scott was then able to get his hips out and secure a slick armbar from his back forcing a tapout.
Frank Joseph def. Joshua Lawson via KO(punch), :12 R1-
Lawson started by throwing a low kick which didn't quite find its mark. The fighters engaged and Frank Joseph landed a nasty combination with a right hand that landed flush. It happened right in front of the press table as you could hear the loud smack when Joseph connected. Lawson was dropped to the canvas like a sack of rocks with the punch. Joseph followed him to the ground but no additional punches were thrown as Lawson was out cold.
Dimitri Turner def. Coulton Rucker via TKO(punches), 1:10 R1-
Turner and Rucker put as much action into a minute and ten seconds as possible. Turner who had his hair dyed burnt orange exchanged with Rucker before a quick takedown. The two fighters got in a precarious north south position with Turner looking to get a reverse figure four on the head. After rolling out, Turner threw punches until the ref stopped the fight.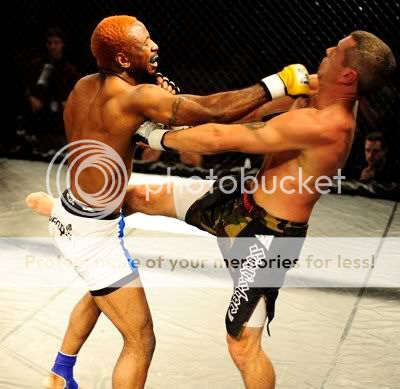 Jason Prusinowski def. Travis Shiflett via Unanimous Decision
- All three rounds went to Jason as he was almost able to finish Travis with a rear naked choke on three different occasions. Jason set up the submission attempts with lateral like takedowns. Jason was able to work side control and get mount in each round. Travis did a good job rolling out of the rear naked choke, keeping hand control and turning into his opponent. Jason almost got an armbar as time expired.
Josh McGee def Joseph Tauscher via Sub(guillotine), 2:22 R1-
Joe was able to start the fight off with a nice slam double leg takedown. McGee looked for an armbar, but Joe was able to slam his way out of it as both fighter got back to their feet. Joe was able to get another takedown with a little less umph behind it. After a scramble, McGee, who was looking for a submission the entire fight was able to sink in a guillotine.
Lizzy Miller def Julie Roseberry via Sub(Guillotine) 1:57 R1-
The first women's mma bout in South Carolina was an explosive match and the most exciting of the undercard fights. The fighters engaged throwing nasty combo's as each fighter landed shots. Julie seemed to sneak a couple more in at the start of the match, followed up with a body lock to a takedown.
Julie stood up from there, and threw some leg kicks to a grounded Miller. The ref stood the fighters up shortly after and Miller snuck in some punches before securing a quick guillotine that forced the stoppage. Such an entertaining two minutes. The crowd was going absolutely crazy at this point as they had witnessed a superb comeback victory for Lizzy Miller. Miller (Sprawl Shorts) at 19 years old is a fighter to look out for in the future.
Below are pictures of the venue about two hours before fight time. The venue got pretty full before the first fight. Also there is a picture of the ring girls with the Omega Girls.
*I should have the names right, let me know if you see an error.
*With a great night of fights completed, I would probably say the fight of the night was a toss-up between Lizzy Miller v. Julie Roseberry and Larry Landry v. Shah Bobonis. They were each explosive fights that had the crowd whipped up into a frenzy with come from behind victories.