By MMA Blaster
Ultimate Fight Night 15 featured four televised fights that were each entertaining. While I would have seen Sakara's head kick KO or Massenzio and Miller's submissions that all ended in a minute thirty in the first round, it was a good show overall.
Eric Schafer def. Houston Alexander
via Sub (Arm-triangle choke) - R1, 4:53- Houston Alexander showed again that while he has power, he is not good off his back. Alexander unleashed some wicked knees almost knocking out Schafer. However, Schafer held tight, was able to eventually get the takedown and mount. From mount, Houston was toast, though he almost got to the bell. Schafer's tight arm triangle won him the match.
Alan Belcher def. Ed Herman
via Decision (Split)- I actually scored this contest in favor of Ed Herman, but it was very close. Belcher landed the more effective strikes, but Herman stood his ground and only once on a punch that pushed him to the cage wall did he appear stunned. The third round was the only true convincing round that should have went to Herman as he had Belcher mounted and was throwing heavy strikes. The first I gave to Herman because of the near submissions while using the darce choke, with the takedowns and ground game. But, that it is a fight and you don't want to leave it to the judges.
Clay Guida def. Mac Danzig
via Decision (Unanimous)- Clay worked a perfect game plan outworking Danzig standing and getting takedowns at will. Danzig never really got his submission game working while off his back. At one point Danzig looked for a omaplata with his leg high, but he wasn't able to capitalize. Guida never stopped and peppered Danzig with strikes the whole match. I like many fans would have liked to see Guida go for more of the knockout blow, but to Guida's credit he never stopped going at full throttle for three rounds.
Nathan Diaz def. Josh Neer
via Decision (Split)- Diaz and Neer fought a close battle that went back and forth. Neer may have said in the pre-fight that he would be trying to test Diaz' hands may have been lying a touch. Diaz won the takedown battle, capped by a beautiful judo throw. Diaz probably had a slight edge on strikes as well.
Neer was able to get near armbars and triangles, but Diaz utilized a step over escaped that seemed to work every time. A few times Neer was throwing some nasty upkicks off his back that almost landed. A very good fight, and well deserving of the fight of the night bonus that both fighters received.
Quote of the night from Nate Diaz following the fight, "Josh Neer, he ain't no black belt in jiu-jitsu like the other guys I've been fighting. This motherf*****, this dude right here can fight." Nate also went on to give props to Jake Shields, Gilbert Melendez, Cesar Gracie and his brother. He said that another league won't give Nick a fight, referring to Elite XC and champ KJ Noons.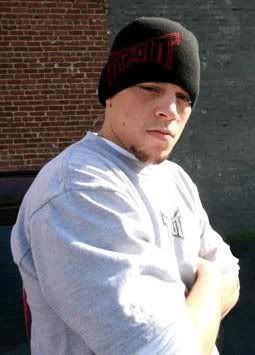 Untelevised
Alessio Sakara def. Joe Vedepo via KO (head kick) - R1, 1:27- KO of the night bonus winner.
Wilson Gouveia def. Ryan Jensen via sub (arm-bar) - R2, 2:04- Submission of the night bonus winner.
Joe Lauzon def. Kyle Bradley via TKO (strikes) - R2, 1:34
Jason Brilz def. Brad Morris via TKO (strikes) - R2, 2:54
Mike Massenzio def. Drew McFedries via sub (kimura) - R1, 1:28
Dan Miller def. Rob Kimmons via sub (rear-naked choke) - R1, 1:27