By MMA Blaster
The first episode of TUF 8 did not disappoint. From the get go you know it will be a crazy season. Phillipe Nover fainted in the opening frame of Dana White's speech. The look on the guy standing in front of him is hilarious as Nover initially starts to lean and then goes out.
The coaches Frank Mir and Antonio Rodrigo Nogueira, Big Nog, come out and the fighters don't seem too excited. Reason being, they have to make weight the next day and fight to get into the house.
It will be interesting to see how much talk time each coach gets. Big Nog, a native Brazilian, seems to have the subtitles flowing after every sentence. Mir is a well spoken guy as a WEC color commentator.
We don't see how they are matched up to fight, so I hope that Joe Silva seeded them somehow and Dana White didn't just randomly match them up.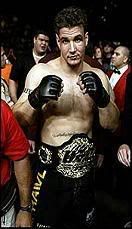 *Pic of Frank Mir as champ
While weight cutting, Jason Guida has by far the worst time. He is 217 off the start, and needs to get down to 206. During his cut, Mir commented on how it looked like Guida was having the worst of everyone else. The next scene brings those comments to life, as Guida, with a towel slightly covering his groin experiences some bad leg cramps. His legs go stiff, like a grounded Frankenstein, and he has a couple guys try to loosen him up.
When they manage to get him on the scale, he comes in at 207, one pound over. The doctor monitering the situation and Ken Kizer of NSAC end up not letting Guida continue. To Guida's credit he wanted to lose the pound, but he just wasn't allowed to as the doctor knew how dehydrated he Guida had become.
Mike Stewart jumps in to replace Guida in his fight against former IFL fighter Krystof Soszynski. Soszynski is a big guy who had a spat in pro wresting before MMA. In his mma career, Soszynski has fought in the IFL on the big stage, then at heavyweight. Stewart looks to maybe have an amateur fight or two on his resume.
The fight is quick as Soszynski drops Stewart with punches and keeps going as Stewart goes to his knees. The ref stops the fight shortly thereafter.
The next fight is Fernando "The Machete" Bernstein and Dave Kaplan. While Bernstein threw some snapping kicks and looked decent on his feet, he proved to lack a ground game. Kaplan took him down from the clinch, got his back, and the fight was done in a couple minutes.
Phillipe Nover and Joe Duarte faced off next. I was a little disappointed because I thought each of these fighters would have decent showings in the house. They battled back and forth on their feet in the first. Both throwing some mean punches and kicks. Duarte almost had Nover finished in the first before the bell sounded.
In the second, Nover pressed the action getting a takedown, elbows, then sinking in a rear naked choke. While losing, Duarte still looked good and I wouldn't be surprised seeing him back in the house if a fighter was injured.
Eric Magee and Jules Bruchez faced off next in what I would call a lackluster fight. Neither 205 pounded looked in great shape or to have too much skill. Bruchez was able to get a rear naked choke victory and talk some junk after the fight. He is a farmer and gets his power country style.
Vinny Magalhaes and Lance Evans- The first round was more of a highlight montage, and we see Evans get kicked in the ribs. Evans, brother of Rashad Evans, clutches his ribs as he goes to his corner at the end of the round. He is not able to continue and sent packing. Magalhaes looks in good shape and moved well on his feet.
Antwain Britt and Ryan Jimmo also get the highlight montage treatment. Britt wins a split decision.
Brian McLaughlin and Garner fought next, as McLaughlin looked to be winning the bout in the first. In the second Garner threw a knee while McLaughlin had both knees on the ground. McLaughlin when to the canvas and told the doctor he was dizzy. The ref called the bout a no contest and the knee unintentional, but Dana White decided McLaughlin would move on.
Junie Browning fought Jose Aguilar in the final bout of the night. Aguilar talks some interesting trash talk as he proclaims himself to be on the level of historic greats, like Napoleon and Alexander the Great. If Aguilar was in the BC times, he'd be conquering people. He proclaims himself as a, "straight up criminal."
Browning says there is no way Aguilar will beat him and that he has a, "better chance of getting me pregnant than beating me." Well Browning's trash seemed to be a little more accurate. Aguilar was taken down and punched and elbowed until the bell was rung. Aguilar promptly tells the ref that he has had enough.
If Ghengis Khan was in mma, he'd answer the bell, knock you out, then conquer your village.
Moving into the house are:
LHW - 205
Krzysztof Soszynski
Jules Bruchez
Vinny Magalhaes
Antwain Britt
LW - 155
Dave Kaplan
Phillipe Nover
Brian McLaughlin
Junie Browning