For any of you that have a DVR and HDNet, you may want to record Dream 6 which is airing around 3 AM Eastern. For the rest of us, we will be scouring the internet tomorrow morning for the fights. All fighters have reportedly made weight for the event. The 185 pound tournament is down to the final four, and the last two matches of the tournament will be held.
Mirko "Cro Cop" Filipovic vs. Alistair Overeem- This main event features two of the top heavyweight strikers in the game. The winner will reportedly get a shot at Dream's Heavyweight belt.
Shinya Aoki vs. Todd Moore- Shinya is one of the top mma grapplers in the business. He has a gogoplata victory over Joachim Hansen and Katsuhiko Nagata.
Yoshihiro Akiyama vs. Masanori Tonooka- Akiyama is a legit top ten fighter in the 185 pound weight class.
Kuniyoshi Hironaka vs. Hayato "Mach" Sakurai- Sakurai is an extremely dangerous fighter. Look for a
Masakatsu Funaki vs. Ikuhisa Minowa- A battle between two longtime mma veterans. Funaki better be on the lookout for the kneebar.
Jimmy Ambriz vs. Sergei Kharitonov- Finally we get to see Sergei Kharitonov back in an mma fight. He has been out of the game since September of 07.
Adriano Martins vs. Keita Nakamura- Nak is looking to rebound from a poor showing in the UFC. Nak went 0-3 in the UFC with three decision losses. He is 14-0 outside the octogon.
*Zelg Galesic vs. Ronaldo "Jacare" Souza- This is the second fight of the 185 pound grand prix. Souza is one of the most impressive grapplers in mma. Souza beat Iam Murphy and Mayhem Miller to get to the top four. Galesic is an impressive muay thai fighter who beat Magomed Sultanakhmedov and Taiei Kin to make the top four.
*Melvin Manhoef vs. Gegard Mousasi- Manhoef is one of the most powerful strikers in the game today. Give him one inch and he will put you on your back seeing stars. Manhoef TKO'd Dae Won Kim and Sakuraba to reach the final four. Mousasi triangle choked Denis Kang and won a unanimous decision over Dong Sik Yoon to make the final four.
+Andrews Nakahara vs. Yoon Dong Sik- This is the alternate bout for the 185 pound tournament in case one of the winners is injured.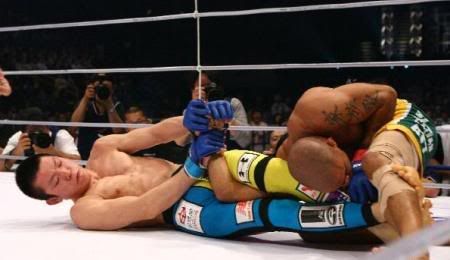 *photo of Shinya Aoki

(*) indicates 185 pound tournament bout, (+) alternate match