For anyone who hasn't seen the Cung Le v. Frank Shamrock fight, check it out. The fight was three rounds of pretty much non-stop action. Frank kept to his word and preferred to stay on his feet. He attempted a takedown only one time, and the announcers seemed to lead on that it had something to do with his ACL. While standing, Cung got the most of Frank with his assortment of kicks, punches, spinning backfists, and a couple leg catches. The leg catches were very impressive, as Cung caught the leg and blasted Frank's grounded ankle with a sweep (reminiscent of San Shou).
Frank was able to land a couple kicks on Cung, and was able to close the distance in the third round. When in close, Frank did some damage with punches. It was only temporary as Cung was able to break away. However, Cung's kicks proved too much for Frank, as he broke his ulna(forearm) while defending a kick, and after the third round he could not continue. Cung Le is the new MW Strikeforce Champ. I'd like to see him square off against Robbie Lawler or a cross promotion with HDNet to get a fight with Mayhem Miller.
*MMA Blaster poll- 32 Shamrock v. 31 Le - looks like the readers lost!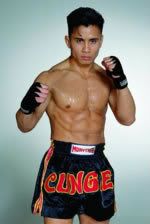 Results
Cung Le vs. Frank Shamrock via TKO (arm injury)- R3, 5:00
Drew Fickett def. Jae Suk Lim via sub (guillotine choke)- R1, 1:14
Gilbert Melendez def. Gabe Lemley via TKO (strikes)- R2, 2:18
Wayne Cole def. Mike Kyle via sub (armbar) - R1, 0:42
Joey Villasenor def. Ryan Jensen via KO (punch) - R1, 4:45
Tiki Ghosn def. Luke Stewart via unanimous decision
Darren Uyenoyama def. Anthony Figueroa via sub(guillotine) - R1, 1:27
Jesse Jones def. Jesse Gillespie via TKO - R1 0:35