Bodog Presents: Strikeforce at the Dome - Preview by the MMA Blaster
+I'll put out the results once I see most of the fights. So far they have been hard to find.+
The most recent installment comes at us this Saturday, February 23rd from Tacoma, Washington. While this card doesn't have the star power of the March 29th Shamrock v. Le card, there will be some exciting fights. There is a decent article on the Strikeforce website, but the records they use are a bit decieving. I think they integrate kickboxing and boxing records with MMA record, so I'm not using that. The event will be broadcast live on HDNet at 10:30 Eastern time.
Main Card:
Jan Nortje (1-5) v. Bob Sapp (9-2-1)- There will be some serious weight pushed around for this one. Bob Sapp overpowered his last opponent, Bobby Ologun (2-2) in a K-1 event in Japan. That was Sapp's first fight since 2005. While Sapp is a massive 6'5" weighing 300 pounds, Nortje is 6'10" and weighs upwards of 300 pounds as well. Strikeforce has Nortje's record as (25-17, I'm guessing that is K-1 kickboxing) and claims he is an undefeated boxer. I'm guessing that Sapp will try to take down Nortje and ground and pound. Hopefully these two don't destroy the cage.
Maurice Smith (11-10) v. Rick "The Jet" Roufus (0-0)- Ex UFC heavyweight champ Mo Smith is also a former K1 North American kickboxing champ. Strikefore lists his record at (73-20-4, I'm guessing K-1 record). Roufus is a six-time world kickboxing champion and former World Boxing Council (WBC) Continental Americas champion, the Strikeforce listed record of (57-7) is probably a kickboxing record. Look for the two fighters to stand and trade. Someone will probably end up KO'd.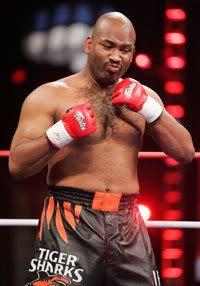 Joe Riggs (27-9) v. Cory Devela (7-1)- UFC vet Riggs is coming off an impressive win at the Strikeforce Playboy event over Eugene Jackson (15-8). Riggs dominated Jackson knocking him out in the first round. Devela's last outing saw him win a decision over UFC vet Lodune Sincaid (12-6). Devela's only loss was to UFC vet Ed Herman.
Jorge Masvidal (12-2) v. Ryan Healy (9-2-1)- Since Healy's loss to Razor Rob in the WEC he has bounced back with two TKO wins over Robbie Shamrock (0-1) and Ryan Bixler (13-4). Masvidal has been on a tear since his loss to Paul Rodriguez, winning 6 straight (3 in Bodog, 1 in Strikeforce) including wins over Yves Edwards (33-13), Matt Lee (9-7), Steve Berger (18-17) and Keith Wisniewski (22-12).
Brad Blackburn (10-9-1) v. Ray Perales (9-13)- IFL vet Blackburn actually KO'd IFL welterweight champ Jay Hieron (14-4) prior to his last fight which ended in a no contest. Ray Perales scored a decision win over Blackburn in their previous fight in 2005. Since that win, Perales has gone (2-6).
Undercard:
Steve Berger (18-17) v. Eddy Ellis (13-14)
Andrew Peterson (1-0) v. Mychal Clark (4-3)
Nathan Coy (2-0) v. Chris Davis (?)
Zach Skinner (2-2) v. Scott Shaffer (?)
Bob Sapp highlight