*All fighters have made weight and are primed and ready to go.
MAIN CARD
MW Champ Anderson Silva (20-4)(5-0 UFC) vs. Pride MW Champ Dan Henderson (22-6, 2-1 UFC)- This match is for the UFC MW Title- Anderson is on an impressive 5-0 streak to start his career in the UFC. He has looked unbeatable in his dismantling of Nate Marquardt, 2X of Rich Franklin, Chris Leben and Travis Lutter in the UFC. The only real blemish was giving up some takedowns to Travis Lutter.

While Dan Henderson lost a unanimous decision to Rampage Jackson in his last UFC bout, many fans seem to forget just how great of a career Henderson brings to the table.
He started his career 9-0 winning three tournaments including UFC 17, Brazil Open 97, and the five match, two night, Rings - King of Kings 99. During that stretch, Dan defeated Carlos Newton, Allen Goes, Gilbert Yvel, Renato Sobral and UFC HW Champ Antonio Rodrigo Nogueira. His other notable victories are over Renzo Gracie, Ninja Rua, Vitor Belfort, Wanderlei Silva, Yuki Kondo, Murilo Bustamante, Akihiro Gono and Kazuo Misaki.
**My pick - Silva via TKO Rd. 3
Heath Herring (27-13, 1-2 UFC) vs. Cheick Kongo (11-3, 3-1 UFC)- These two heavyweight strikers will be throwing some serious leather. Counter punching could get a little boring. If Kongo can win he will get close to getting a shot at the title.
**My pick - Kongo via KO Rd. 2
*Old Kongo HL
Chris Leben (17-4, 7-3 UFC) vs. Alessio Sakara (12-6, 3-3 UFC)- Both will stand and bang and this will more than likely be an exciting affair. I'm hoping for a quick KO so we can see an extra fight from the stacked undercard.
**My pick - Leben TKO Rd. 1
Yushin Okami (20-4, 5-1 UFC) vs. Evan Tanner (34-6, 11-4 UFC)- After two losses in a row in 2005, Tanner fought once in 2006 winning by triangle choke versus Justin Levens at UFC 59. He hasn't fought since. Each of Okami's UFC fights have reached the third round, where Okami usually turns on the heat. Okami's only loss in the UFC was to former title holder Rich Franklin.
**My pick - Okami via decision
Jon Fitch (15-2, 7-0 UFC) vs. Chris Wilson (13-3, 0-0 UFC)- Chris Wilson is a veteren of the IFL and has wins over their WW Champ Jay Hieron and the exciting Rory Markum. Fitch has 14 victories in a row, and has looked excellent in his grappling and his submission game.
**My pick - Fitch via submission Rd. 2
UNDERCARD
Former HW Champ Andrei Arlovski (11-5, 9-4 UFC) vs. Jake O'Brien (10-0, 3-0 UFC)- This is Arlovski's last fight on his contract. Arlovski will be looking to KO or submit O'Brien who hasn't fought since his upset of Heath Herring which was a year ago. I expect to see O'Brien attempt a takedown early and to absorb some punishment.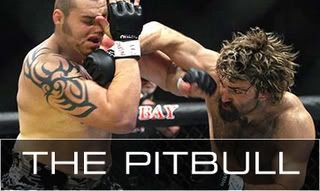 **My pick - Arlovski via kneebar Rd. 1
Dustin Hazelett (10-3, 3-1 UFC) vs. Josh Koscheck (9-2, 7-2 UFC)- Hazelett has three straight wins in the UFC. Kos will be looking to take Hazelett down and ground and pound a victory.
**My pick - Hazelett via armbar Rd. 3
David Bielkheden (12-5, 0-0 UFC) vs. Diego Sanchez (17-2, 5-2 UFC)-Diego is looking to rebound from two decision losses to Jon Fitch and Josh Koscheck.
*Diego in KOTC according to photobucket
**My pick - Sanchez via TKO Rd. 2
Luke Cummo (6-4, 3-2 UFC) vs. Luigi Fioravanti (11-3, 2-3 UFC)- Cummo and Fioravanti are both looking to take steps up the 170 pound latter.
**My pick - Cummo via armbar Rd. 2
Jorge Gurgel (11-3, 2-2 UFC)vs. John Halverson (16-5, 0-1 UFC)-Halverson's only loss in the UFC was to young star Roger Huerta. Gurgel will look for a submission, while Halverson will more than likely look for a KO.
**My pick - Halverson via KO rd. 3