UFC 81 will go down as one of the most entertaining events the promotion has ever put on. Most fights ended quickly with three guillotine chokes in the main card. The audience was star studded, with the Undertaker, Stone Cold, Ken Griffey Jr., Rampage and various others and they got their money's worth. Just like the old UFC's ju-jitsu dominated over brute force.
Antonio Rodrigo Nogueira def. Tim Sylvia via submission (guillotine choke) — R3, 1:28 - UFC HW Championship belongs to Nogeueira and he earned it. Nogueira took punishment from Sylvia for two and a half rounds as Sylvia hit him with everything in his aresenal. But it only took one mistake for Nogeria to sweep Sylvia and choke him out. Reminiscant of the Bob Sapp and Cro Cop fights, the legend of Nogueira continues.
*Both fighters won fight of the night bonuses.
(Poll results Nogueria 29-20, MMA Blaster readers correct)
Frank Mir def. Brock Lesnar via submission (knee bar) — R1, 1:30 - Lesnar came out in a fury taking down Mir immediately before starting to rain down hammerfists on Mirs face. Mir turned, and Lesnar inadvertantly struck the back of Mir's head. Lesanr was deducted a point, and the match resumed.
Off the bat on the restart, Lesnar threw a jab that knocked Mir to the canvas. After a couple punches in half guard, Lesnar looked out of place and a leg was open for Mir to get a knee bar. It was inexperience at its finest, and Lesnar didn't know what to do, tapping.
Lesnar's performance indicates that he has raw tools. He is big, he is powerful, he is agile. But, he is inexperienced. Mir had absolutely no answer for Lesnar's two takedown attempts. The punches that were thrown looked powerful and did damage. Maybe the point deduction distracted Lesnar slightly, but it did not have any real impact on the fight. You would think Lesnar or someone in his camp would have bothered looking at the toe hold Mir put on Tank Abbott and thinking a leg lock would be probable.
*Mir wins submission of the night.
(Poll Lesnar 59-37, MMA Blaster readers incorrect)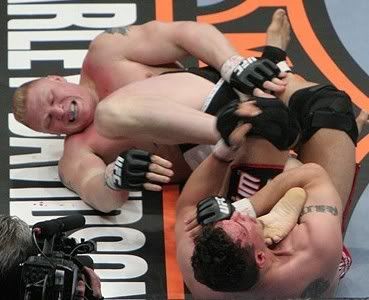 Nate Marquardt def. Jeremy Horn via submission (guillotine choke) — R2, 1:37 - Marquardt punished Horn for virtually the entire first round. Horn eventually worked in an omaplata shoulder lock to a sweep near the end of the round. The second round was more of the same as Horn fell into the guillotine after taking alot of punishment. Marquardt was sound on his feet working his punches and combos.
Ricardo Almeida def. Rob Yundt via submission (guillotine choke) — R1, 1:08 - Almeida overwelmed the inexperienced Yundt before getting the choke. Yundt attempted to slam himself out, but was unsuccesful.
Tyson Griffin def. Gleison Tibau via unanimous decision - Griffin probably had the edge standing, but Tibau was able to get some takedowns.
Chris Lytle def. Kyle Bradley via KO (strikes) — R1, 0:33 - Lytle came out swinging, and tagged Bradley sending him to the canvas where he absorbed another punch before the ref stepped in. A dazed Bradley pulled the ref into his guard before realizing what was going on.
*KO of the night.
Tim Boetsch def. David Heath via TKO (strikes) — R1, 4:52 - IFL vet Boetsch worked his front kick and unorthodox body punches. After getting the thai clinch, Boetch worked devastating knee strikes. To finish it off, Boetsch hip tossed Heath to the canvas and finished Heath off.
Marvin Eastman def. Terry Martin via unanimous decision
Rob Emerson def. Keita Nakamura via split decision