I have yet to see all the fights from Elite XC's biggest event to date. Apparently they had a sell out crowd present in Miami. The Kimbo v. Tank fight went exactly as how I thought it would with Tank gassed and knocked out in the first. There were two strange stoppages, one because of strikes to the back of the head when Tank was on all fours and another when something made its way into the arena. After being saved, Tank took a big shot to the face and was dropped like a sack of potatoes.
If you haven't already, watch the Yves Edwards v. Edson Berto fight. While Edson Berto had a deep single leg in, Yves clobbered Berto with his opposite knee. One of the most athletic KO's I have seen. I wouldn't call it a flying knee like I have seen listed, but it was awesome.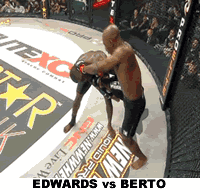 James Thompson's game plan of pushing Brett Rodgers around didn't work. After being taken down and let up, Rodgers smashed Thompson right on the chin and got the KO. Thompson tried to grapple with the ref afterwards and had no idea what planet he was on.
Undercard
Moyses Gabin def Jirka Hlavati via TKO R1, 2:32
Lorenzo Borgomeo def Mike Bernhard via Sub(triangle) R2, 4:11
Eric Bradley def Mikey Gomez via Unanimous Decision
Dave "Pee Wee" Herman def Mario Rinaldi via (TKO) R3, :33
Yosmany Cabezas def Jon Kirk via Sub (RNC) R2, :58
Rafael Feijao def John Doyle via TKO (knee) R1, 2:17
Main Card
Brett Rogers def James Thompson via TKO (punches) R1, 2:24
Yves Edwards def Edson Berto via KO (knee KO) R1. 4:56
Scott Smith def Kyle Noke via KO (punch) R2, :07
Antonio Silva def Ricco Rodriguez via Split Dec
Kimbo Slice def Tank Abbott via KO (punch) R1, :43