The WEC (Zuffa owned) is starting to get extremely packed with talent in the lower weight classes. The increase of talent probably is a sign that the UFC needs to get a featherweight and bantam weight class. Also, like I have always said, the UFC and WEC needs to show more fights on their broadcasts. How many movie review trailers can they cram into two or three hours?
Main Card
WW Champ Carlos Condit vs. Carlo Prater - Condit came in weighing 167 and is riding a 6 fight win streak, including 3 in the WEC. Prater beat Condit in 2004, and is on his own 3 fight win streak.
LW Champ Rob McCullough vs. Jamie Varner - Razor Rob has been impressive in his two WEC fights crushing Kit Cope and Richard Crunkilton. Razor is riding a 9 fight win streak. Varner has two wins in a row since his loss in the UFC to Hermes Franca.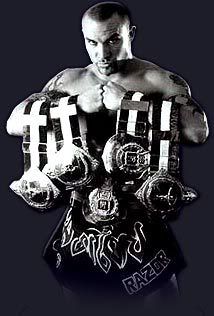 BW Champ Chase Beebe vs. Miguel Torres - Beebe has six wins in a row, with his last 2 coming in the WEC. Those wins were by unanimous decision. Torres has 12 wins in a row, all but one by a stoppage.
Antonio Banuelos vs. Manny Tapia
Leonard Garcia vs. Hiroyuki Takaya
Under Card
Mark Hominick vs. Josh Grispi
Del Hawkins vs. Coty Wheeler
Yoshiro Maeda vs. Charlie Valencia
Chance Farrar vs. Micah Miller
Scott Jorgensen vs. Damacio Page