Both T.J. O'Brien and Jesse Lund dominated in their performances in Title Fight Championships "Awakening" event on 1/26/08. T.J. used a high kick to knock his opponent to the floor before applying a rear naked choke just 57 seconds into the bout. Jesse won by a keylock submission at 1:40 in the first round.
T.J. O'Brien
Jesse Lund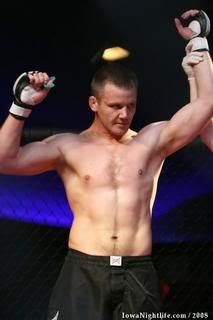 Full TFC Results (Note: TFC and MCC are merged)
1) Steve Young (146) vs Damian Ware (145)
Young won by verbal submission due to an arm lock at 1:48 in RD 1
2) Mark Gearhart (188) vs Tim Ross (185)
Ross won with a guillotine in RD 2
3) Jesse Lund (204) vs Bryant Reynolds (205)
Lund won with a Kimura at 1:40 in RD 1
4) Ronnie Britt (166) vs Shane Mosby (167)
Britt won with a modified shoulder choke at 3:33 in RD 1
5) Josh Christiansen (204) vs Kris Mason (205)
Christiansen won by tapout due to strikes at 1:16 in RD 1
6) Josh Atwell (144) vs Eric Howser (143)
Atwell won with a RNC at 1:37 in RD 2
7) Cole Jennet vs Jason Purcell (168)
Jennet won with a Keylock at 1:47 in RD 1
8) Jeff Carstens (159) vs TJ O'Brien (155)
O'Brien won with a RNC at 57 seconds in RD 1.
9) Mike Van Meer vs Brian Green (184)
Green won by tapout due to armbar RD 2
Brian Green Wins Middleweight Championship