UFN 12 Recap
Three exciting fights made the broadcast on Wednesday night. The amount of fluff that goes into the Spike live telecasts is pretty harsh. There were 30 minutes of filler before the first fight. Then there was a long interview with Sly Stallone, and another with two guys from Vince Vaughn's Wild West Comedy Tour. There was also the Rambo replay. Needless to say, it would have been nice if they could have put the Wiman fight that ended in the first or Corey Hill's fight that ended at the start of the second. Here are the results:
Mike Swick def. Josh Burkman via majority decision - Overall a relatively repetitive fight. Burkman tried to get a takedown, was stopped, and the fight was reset. The karate kick roundhouse by Burkman and a couple other wild and unsuccessful moves were interesting. Swick's heavy kick to Burkman's jugular probably won him a round. The other two rounds were very close. In my book this fight could have easily been a draw.
Patrick Cote def. Andrew McFedries via TKO (strikes) — R1, 1:44 - This was a very exciting 1:44 worth of action. Both fighters exchanged shots taking blows, and Cote lulled McFedries in. Cote next smashed McFedries on the jaw, following McFedries to the canvas with an uppercut. The fight was stopped with McFedries basically against the fence with his hands up taking punches.
Thiago Tavares def. Michihiro Omigawa via unanimous decision - After an entertaining grappling match in the first round, the rest of the fight was uneventful.
Nate Diaz def. Alvin Robinson via Submission (triangle choke) — R1, 3:39 - Diaz looks to be the real deal as he sealed this win with a perfectly executed triangle. After connecting with a hook, Diaz slammed Robinson to the mat, but found himself in a tight guillotine choke. Diaz stayed calm, worked himself out, and looked crisp with his grappling in the win. His legs from the bottom are never stopping as he looked extremely limber applying the triangle.
*My pick for submission of the night.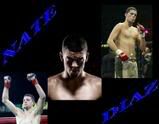 Kurt Pellegrino def. Alberto Crane via TKO (strikes) — R2, 1:55 - This fight is the type that makes some a little squeemish. Crane opened the fight with a head kick that struck Pellegrino right in the mouth. Pellegrino's bottom tooth actually punctured his skin. Crane went for a choke with Pellegrino on the floor, but the dazed Pellegrino didn't submit. Maybe because he was unconscious. Crane should have punched Kurt out there, but his inexperience showed. In the second round, Pellegrino struck Crane near the eye, and when Crane grimaced, held his face and rolled, the fight was called.
*My pick for KO of the night. *Fight of the night.
Undercard - I'd like to watch before I comment, here are the results.
Gray Maynard def. Dennis Siver via unanimous decision
Jeremy Stephens def. Cole Miller via TKO (strikes) — R2, 4:44
Corey Hill def. Joe Veres via TKO (strikes) — R2, 0:37
Matt Wiman def. Justin Buchholz via submission (rear-naked Choke) — R1, 2:56