Article by the MMA Blaster
The cold of the Midwest winter will be broken up this Saturday with Title Fight Championship's "Awakening" event. The mixed martial arts fight card will take place at the Val Air Ballroom in West Des Moines, Iowa. The main event will be a clash against 185 pound MMA veterans Mike Van Meer and Brian Green. Also on the card are two of Team Revolution's up and coming fighters, T.J. "Da Spyder" O'Brien and Jesse Lund. Both are looking to continue on their winning ways and gain valuable fight experience. I was able to correspond with both before writing this article.
T.J. O'Brien has a lightweight fight with Jeff Carstens. Carstens is an experienced mixed martial artist with over fourteen pro fights to his name. All of Carstens' victories (and most of his losses) have come by way of submission. T.J. is aware of Cartens' love of the ground game and counter punching, and plans to use his reach advantage to control the fight. As a tall and lean 155 pound fighter TJ. said, "[m]y biggest assets coming into the fight would be my transition and my size. I fight at 155 and I am 6'2" so that gives me a reach advantage." T.J. will also look to establish his combinations and push the action.
T.J. is a graduate of Martensdale St. Marys High School and currently goes to Des Moines Area Community College. During high school, T.J. was a four time letter winner in basketball and track, taking part in state track meets all four years and still holds the record in the 4 X 400 meters. He has been studying Brazilian Jiu Jitsu for a little over a year.
Team Revolution's Jesse Lund is in a 205 pound contest with Bryant Reynolds. Jesse was a four year wrestler at Nodaway Valley High School in Iowa, qualifying for state his senior year. When asked about the transition to mma, Jesse said, "[i]t was a hard transition from wrestling to jiu jitsu, especially pulling guard vs keeping your base. I had zero stand up skills, but now feel very strong on my feet, thanks to Rev for the hands and Razor for the kicks."
In regards to his opponent on Saturday, Jesse knows little about his foe's skills other than his wrestling ability. Jesse is not coming into the fight with a specific game plan because he knows it will go out the window once he is hit. Jesse looks to keep the fight standing to show off his striking skills. But when the fight hits the ground, Jesse sees a quick victory coming. Jesse is a father of two, Baylie (6) and Blake (3), and gives extra thanks to his wife Theresa. She has allowed him to train, arranged for babysitters, and helped with ticket sales.
Both fighters wanted to give thanks to "The Reverend" Chuck Grigsby and Team Revolution. Jesse was not getting enough training at his previous camp before he called Rev and asked about joining the gym. T.J. was invited after talking to Rev while lifting weights at the YMCA.
I want to wish both the fighters luck in their bouts this weekend. I'll let everyone know the results and hopefully will get some pictures up. If anyone still needs tickets, click on the Team Revolution link on the right.
Jesse Lund
T.J. O'Brien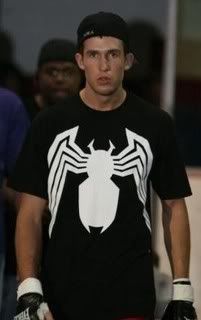 *The text of this article is intellectual property owned by the MMA Blaster