"The Reverend" Charles Grigsby (15-3, VCC and MCC Light Heavyweight Champ), recently informed me that he has signed a multi-fight deal to fight in the WEC. The WEC is an organization owned by UFC's parent corporation Zuffa, yet runs independently of the UFC.
The Reverend's first fight was scheduled for June 1, 2008. As it stands, Rev's originaly scheduled opponent, Lew Polley (6-0 Sherdog Record, 8-1 ATT website record), has withdrawn from the fight to fight on an Elite XC card. Rev may fight in card promoted in Florida in March prior to the WEC fight, he will let us know.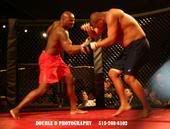 *See below for an exclusive story on "The Reverend"