MMA Blaster's Fighter of the Year Award was easy to pick. You have to go with
Anderson Silva
, who had three title defenses and made them all look easy. Coming off his dominating performance over Rich Franklin to round out 2006, Anderson did not let off the accellerator in 2007.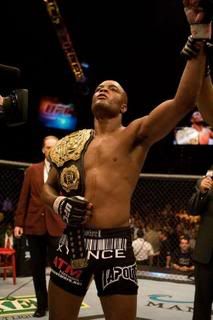 Despite having knee surgery earlier in the year, Anderson first took on Travis Lutter who had won TUF 4. Despite getting taken down, Anderson percevered and crushed the overweight Lutter (9-4) with elbows to stop the fight in the second round. (Because Lutter was overweight, it officially wasn't a title defense but counts in my book)
Next, Anderson took on number 1 contender Nathan Marquardt (25-7-2) and walked through him with relative ease. Anderson was able to dominate in every phase and pummeled Marquardt out in the end of the first round.
Then came the rematch with Rich Franklin, the former UFC posterboy for the 185 pound weight class. Anderson literally seemed to copy the first fight, and dominated again. This fight proved that Anderson is simply a better fighter and cementing his own legacy at 185 by stopping the fight at 1:07 of the second round.

Anderson Silva highlight by Hipnotik