UFC 112 will be the UFC's first venture into the middle east, with Abu Dhabi, United Arab Emerites (UAE) hosting the event. The festivities will play out at the Concert Arena at the Ferrari World theme park on Yas Island. This will be the first UFC event at an outdoor arena.
The evening will feature two title fights for the first time since UFC 100. Unlike UFC 100, the current title holders, Anderson Silva and BJ Penn are heavy favorites coming in. Currently, Anderson Silva and BJ Penn are -1100 and -850 favorites on Bodog.
Current line-up:
Anderson Silva vs. Demian Maia- This 185 pound five round tussle is a classic grappler against striker match-up. Anderson Silva has cemented his legend in the MMA world with ridiculous knockouts during his 10-0 UFC run. Maia comes from a BJJ background, having won the 2007 Abu Dhabi Combat Championship in the 87 KG bracket.
Anderson Silva is undoubtably the top striker currently in mixed martial arts. Silva busted into the UFC steamrolling Chris Leban in 49 seconds. He then destroyed Rich Franklin with knees to take the title which he has yet to relinquish. His path of destruction has seen him roll through Travis Lutter, Dan Henderson, Nate Marquardt, James Irvin and Forrest Griffin.
(Anderson Silva pictured)
Demian Maia, a second degree black belt in BJJ, bust onto the UFC scene with 3 consecutive submission of the night performances. He owns victories over Jason MacDonald, Dan Miller, Nate Quarry and Chael Sonnen. It will be critical for Maia to find a way to takedown Anderson Silva to look for a submission.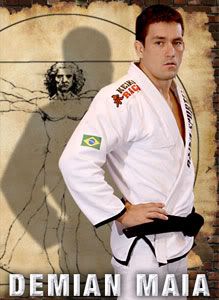 (Demian Maia Pictured)

B.J. Penn vs. Frankie Edgar-
In this lightweight tilt, champion BJ Penn will look to defend his title for the fourth straight time. Penn, who is also a world jiu-jitsu champ, has flashed an ever improving boxing and wrestling game during his recent victories over Kenny Florian, Diego Sanchez, Sean Sherk and Joe Stevenson. Look for BJ to pepper Edgar from the outside and counter punching to loosen up Edgar before getting top position, looking for a submission.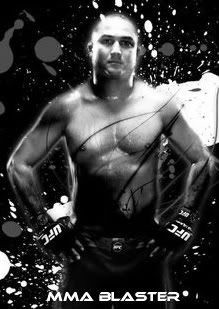 (BJ Penn pictured)
Frankie Edgar, a former collegiate wrestler, has displayed a well-rounded blend of kickboxing and wrestling game during his 6-1 stretch in the UFC. In his last three bouts, Edgar has shown no chinks in his armor, winning over Matt Veach, Sean Sherk and Hermes Franca. Look for Edgar to test the waters with his boxing before trying to get the fight to the floor to utilize ground and pound.
Matt Hughes vs. Renzo Gracie- This fight will pit two MMA legends against eachother. Hughes is a sure-fire UFC hall of famer with exceptional wrestling. He previously defeated Renzo's cousin, Royce Gracie, at UFC 60. Renzo will look to use his black belt submission skills in this bout. Expect either a Hughes decision or Renzo submission in this bout.
Rafael dos Anjos vs. Terry Etim
Kendall Grove vs. Mark Munoz
UNDER CARD
Phil Davis vs. Alexander Gustafsson
John Gunderson vs. Paul Taylor
Nick Osipczak vs. Rick Story
Brad Blackburn vs. DaMarques Johnson
Paul Kelly vs. Matt Veach
Mostapha Al Turk vs. Jon Madsen
(Ferrari World Theme Park)