With Alistair Overeem's dismantling of Brett Rogers at Strikeforce - St. Louis this past weekend, the stars are aligning for an Overeem versus Fedor megafight. If Fedor can get past Fabricio Werdum the title fight should set up perfectly.
Strikeforce HW Champ Alistair Overeem (33-11, 3-0 SF) was a fixture in Pride, before switching to Dream and K-1 kickboxing. He has benefitted from the move to heavyweight after having difficult weight cuts to 205. The move has seen him increase his weight lifting, and the ripped Alistair has speed and big time power in his knees, kicks and punches.
Overeem first fought in Strikeforce with a decision win over Vitor Belfort to earn a title shot against Paul Buentello. Overeem crushed Buentello with a vicious array of knees to the body in the second frame. Overeem's other career wins have come over Igor Vovchanchyn, Mark Hunt, Roman Zentsov and a split with Sergei Kharitonov. The devastating striker also has K-1 wins over legends Badr Hari and Peter Aerts.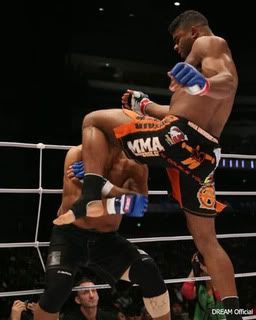 (Alistair Overeem Pictured)
There is no denying that Fedor Emelianenko (33-1, 1-0 SF) has beaten some of the best mixed martial artists the world has ever seen. Fedor's transition game from striking to takedowns to submissions is remarkable. He is a master out of the scramble and nailing the big punch.
Fedor holds two decision wins over Pride HW Champ Antonio Nogueria, decision wins over Mirko Cro Cop Filipovic, Renato "Babalu" Sobral, K1 legend Semmy Schilt and Ricardo Arona. Fedor has KO victories over UFC HW Champ Andrei Arlovski, Brett Rogers, Heath Herring, Gary Goodridge, and Tsuyoshi Kohsaka. He has submission victories over UFC HW Champ Tim Sylvia, UFC HW Champ Mark Coleman 2X, Mark Hunt, Matt Lindland, Naoya Ogawa, UFC HW Champ Kevin Randleman and Kazuyuki Fujita.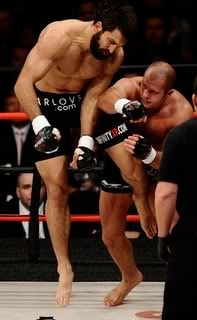 (Fedor KO'ing Arlovski in Affliction)