The second episode of The Ultimate Fighter season 11 started out with the fighters choosing rooms and checking out their suburban Las Vegas house. Figher Chris Camozzi reveals to the camera that he has a couple cuts and an infected tooth. Next, Clayton McKinney reveals he could have a dislocated shoulder and torn rotator cuff. Next, the coaches pick teams, here's how they played out:
Team Punishment
Nick Ring (10-0) Canadian 8 year vet fought in Bellator and Deep
Kyacey Uscola (18-15) KOTC/Bodog vet
Kris McCray (5-0) all wins by 1st round stoppage
Jamie Yager (2-1) fought on BET's Iron Ring
James Hammortree (4-1) all four wins in 2009, also (6-0 and 5-1)
Clayton McKinney (4-2) trains out of Jungle MMA, BJJ blackbelt
Chris Camozzi (11-3) fights out of Colorado, also (12-3)
Team Liddell
Kyle Noke (16-4) W's over Kyacey Uscola and George Sotiropoulos
Rich Attonito (7-3) collegiate wrestler, ATT Florida
Charles Blanchard (7-2) ATT product, win over Jim Wallhead
Josh Bryant (10-0) 9 wins in FCF in Oklahoma
Brad Tavares (4-0) Hawaiian fighter, 2 subs, 2 TKO's
Court McGee (9-1) member of US Army Reserves
Joe Henle (3-0) former college football player and wrestler
Next, Chuck's main coach John Hackleman and ATT boxing coach Howard Davis Jr. are introduced in a relaxed setting. Tito's camp is loud from the start with Tito barking orders, introducing coach Saul Soliz. Cleber Luciano introduced as the jiu-jitsu coach. Interesting enough, Strikeforce middleweight champ Jake Shields is left out of the picture.
While discussing his team, Tito begins to pick on Clayton McKinney, jumping on his back during an excersise. Next, Chris Camozzi takes a shot to the jaw and is seen putting a bag of ice on his jaw. Regardless, Tito pushing his two injured fighters seems like a bad idea.
In the fight selection, Chuck Liddell picks Aussie Kyle Noke to fight the green and black haired Clayton McKinney. McKinney and Tito meet with a doctor, and it is found that the shoulder sustained a bone bruise, not a tear of the rotator cuff.
The next training sequence features Kyle Noke, who reveals that a business had spent money to send him to train in the United States. Understanding what the Australian says is at times confusing. Tito meanwhile gets himself a Liddell pinata for his birthday stuffed with one dollar bills.
The fight plays out with Kyle Noke getting a triangle submission victory on Clayton McKinney. The two took a minute feeling eachother out standing with Noke landing a decent front kick. Noke went for an awkward takedown, with McKinney almost getting his back standing eventually going into half guard. From there, McKinney slowly loses position, sinking into an eventual triangle choke.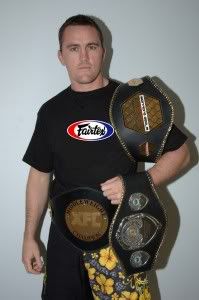 (Kyle Noke pictured)
After the loss, Tito doesn't let McKinney into the locker room. Tito shows a defense to the triangle, forcing McKinney to repeat the escape. McKinney claims that it is humiliating, I would have to agree with him.
Team Liddell 1, Team Punishment 0 - Noke advances to 2nd round